According to the Central Steering Committee for the Natural Disaster Prevention Department, the northern midland and mountain provinces experienced heavy rain on the large scale in some places of Quang Ninh, Lang Son and Ha Giang on September 3- 4.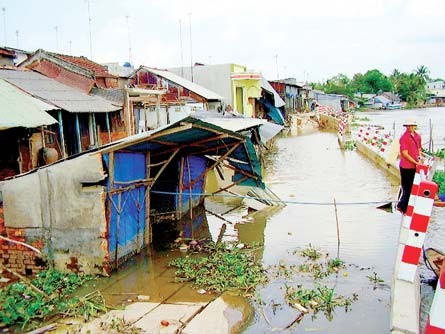 Water level on Nine Dragon River is rising.(Photo:SGGP)
In the area of Lang Son, heavy rain, strong wind and flood destroyed 24 houses, caused an estimated damage of VND 15 billion.
Heavy rains also caused landslide, blocking many road and flash flood water to sweep away a women and child.
Currently, upstream water level on Nine Dragon River is rising rapidly. The highest water level on Tien River in Tan Chau reached 2, 25 meters, at 2, 13 meters in Chau Doc.
By September 7, water level in Tan Chau is predicted to maintain 2, 25 meters and be at 1, 9 meters in Chau Doc.
In the related news, the National Hydrology Meteorology Forecast Center reported that the country has enjoyed a beautiful and more comfortable weather on the occasion of beginning of the 2015-2016 academic year.
In the northern region, it is rain in morning and sunny in afternoon. The daily temperature in the area reaches 25- 34 degrees Celsius; meanwhile, the Central provinces see sunny weather daytime, rain and thunderstorm at night.
In Central Highlands and southern region, the beautiful weather is sunny without rain daytime.
The highest temperature in Ho Chi Minh City maintains at 25- 34 degrees Celsius with sunny weather daytime and rains at night.