Unseasonable rains and cold weather influenced agricultural production and caused extreme damages for farmers in the southeastern region for previous couple days.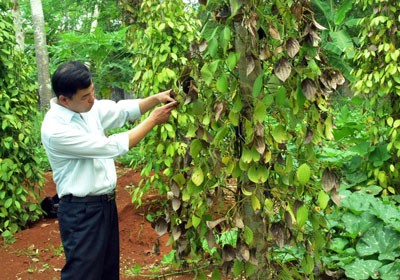 Illustrative photo:SGGP

According to the Dong Nai Agriculture Extension Center, nearly 20,000 hectares of cashew plantation in the province were dry and its fruits were fallen, including around 1,582 hectares of cashew trees were inflicted with disease of Colletotrichum gloeosprioides and 2,039 hectares were completely destroyed by stinkbug.
 
Additionally, baby mango fruits fell from trees in an area of nearly 7,000 hectares and durian flowered prematurely in an area of around 12,000 hectares and that was estimated total damage of  nearly VND 10 billion.
 
To deal with the unusual weather and complicated disease, the provincial Agriculture Extension Center collaborated with Department of Agriculture and Rural Development have often opened courses of training and instructing technology for caring and preventing diseases for trees.