Whirlwinds and floods have killed seven people, injured nine and left six others missing in the central region and Central Highlands over the past seven days.

The natural disaster, a consequence of a tropical depression, also caused hundreds of billions of Vietnamese dong in damage, according to the Centre for Flood and Storm Control in the Central Region and Central Highlands .

The Centre Director, Van Phu Chinh, lead a delegation to flood-hit areas for a fact-finding tour.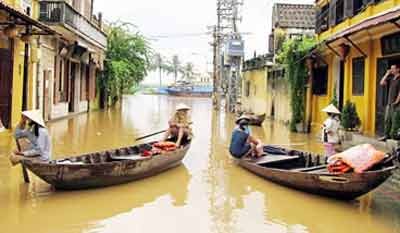 Le Loi Street in Hoi An City, Quang Nam Province submergeb by flood water (Photo: SGGP)
They found that over 1,500 dwellings were either submerged or destroyed. Landslides, which moved tens of thousands of cu. m. of earth, destroyed a number of traffic and irrigation projects. Eight ships and ferries were overturned or stranded.

Additionally, almost 15,000 ha of rice fields and over 10,000 ha of other food crops were inundated and 507 ha of industrial crops were destroyed. Floods also swept away 73 tonnes of fish and shrimp from 732 ha of fish ponds.

The water level in reservoirs at major hydro power plants in Binh Phuoc province has continuously risen, causing the plants to open their overflow sluices, which has affected hundreds of hectares of crops and homes in the adjacent areas.