China's bid for a sweep of all eight diving gold medals at the Beijing Games was under pressure Saturday heading into the final of the men's 10m platform.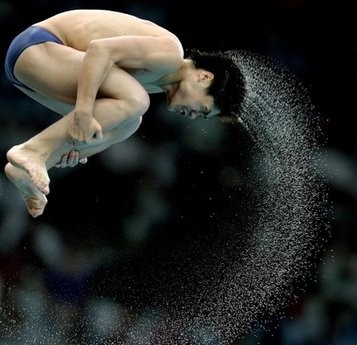 Huo Liang of China performs during the semi-finals of the men's 10m platform diving at the 2008 Beijing Olympic Games, on August 23. Huo was the semi-finals' leader, with a total of 549.95 points.(AFP/Greg Wood)
Huo Liang was the leader after the semi-finals at the Water Cube, with a total of 549.95 points.
But Australian Matthew Mitcham, looking to atone for a poor performance in the 3m springboard, was right behind him, following up a fine preliminary performance by finishing the semi-finals in second with 532.20 points, ahead of China's Zhou Luxin (526.20).
"It's anybody's," world No.3 Mitcham said of the gold. "I think one bad dive from anyone and they're out of the competition, that's the high standard of the competition."
Huo, ranked number two in the world, said his semi-final performance was a big improvement on his showing in Friday's prelimiaries, and he hoped to do better still in the final.
"I wasn't relaxed enough in the preliminary," he said.
Zhou, on the other hand, was less assured in the semi-finals, with a mediocre final dive - a reverse three-and-a-half somersault - costing him.
"There were some technical deficiencies in my last dive," he said. "I failed to get my body full adjusted this morning. Hopefully I will get better tonight."
China's women divers swept all four of their gold medals, and if Huo or Zhou can come through for a fourth men's gold it will mark the first time since 1952 that one country has captured all the diving titles on offer at a Games.
One expected challenge fell by the wayside, as Germany's Sascha Klein, ranked No.1 in the world after his surprise World Cup triumph here in February, failed to advance to the 12-diver final.
"I just didn't get into my competition," said Klein, who finished last in the semi-finals. "I cannot explain. I just have no idea."
He refused to blame the high degree of difficulty in his dive list.
"It's the same dives I do all year. I finished first here in February and third in other events, so I can do all these dives successfully. I did not need easier dives."