Cutting-edge technology is fuelling Olympic fever in South Korea, with employees using hand-held TVs or mobile phones to follow the Games live during work or off-duty hours.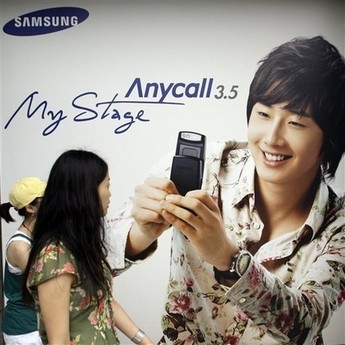 A young enjoys a mobile phone with digital multimedia broadcasting system at Samsung Electronics advertisement banner in Seoul, South Korea i July 25, 2008.
The nation of 49 million people was third in the medals table as of Tuesday night, with five golds. It also has six silvers and one bronze medal.
Park Tae-Hwan, dubbed "Marine Boy," has become a national hero after winning the country its first-ever gold in swimming in the 400-metre freestyle on Sunday. He followed up Tuesday with a silver in the 200-metre freestyle.
Koreans follow the events at work, or during bus and subway journeys, on palm-sized TVs or mobile phones equipped with digital multimedia broadcasting (DMB) systems.
JoongAng Ilbo newspaper recounted the case of Nam, a typical young office worker, who left her desk and locked herself in a washroom cubicle with her mobile phone Monday to watch Park compete in the heats.
She shouted with joy when he qualified -- and realised she was not alone when similar shouts erupted from other cubicles.
South Korea, an IT powerhouse, has more than 14 million DMB terminals.
Samsung Electronics said handsets with DMB accounted for 33.5 percent of all its mobile sales last month, up from 23.1 percent in May.
"Thanks to the Olympic Games, the proportion of DMB phones is likely to rise further this month," a spokesman told AFP.
Thousands of company employees also secretly watch the Games online, with fingers poised to click back to a work-related window when bosses appear.