Michael Phelps became the greatest Olympian of all time Wednesday winning two gold medals in the space of an hour to lift his career total to an unequalled 11 on his charge to Olympic immortality.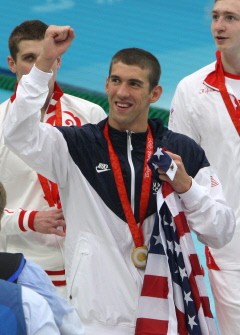 US swimmer Michael Phelps pose with flag and gold medal after the men's 4 x 200m freestyle relay swimming medal ceremony at the National Aquatics Center in Beijing on August 13, 2008. (AFP Photo)
As world records continued to tumble in the pool, Phelps passed the halfway point in his drive to be the first person to win eight golds at one Games when he blitzed the 200m butterfly final and led the US 4x200 freestyle relay team.
The champion American has now won five gold medals in Beijing, all of them in world record time, to go with the six gold he won in Athens.
In a stunning performance in the butterfly final, Phelps was barely able to see as his goggles filled with water.
"It just kept getting worse and worse through the race and I was having trouble seeing the walls to be honest. I wanted to go 1:51 or better but for the circumstances I guess it's not too bad."
Phelps had to settle for 1min 52.03sec, just 0.06sec faster than the previous record he set last year, while his relay team slashed 4.48sec off their record setting a new time of 6:58.56.
No other athlete has won more than nine career gold medals in the history of the Olympics, and Phelps's is confident of meeting his next target of beating Mark Spitz's record of seven golds in one Games.
"From now on it's just a downward slope. The end is close, I love it," he said with the 200m individual medley, 100m butterfly and 4x100m medley relay to come.