USA Gymnastics played down suggestions from a team official Wednesday that stadium staff here distracted one of their athletes so much she went on to make mistakes that destroyed their hopes of an Olympic gold medal.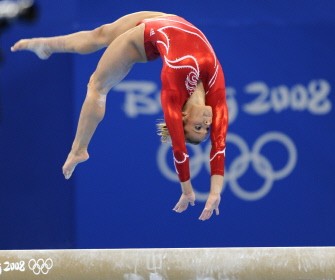 United States' Alicia Sacramone competes on the balance beam during the women's team final of the artistic gymnastics event of the Beijing 2008 Olympic Games in Beijing on August 13, 2008. (AFP Photo)
As the gymnast at the centre of the controversy, Alicia Sacramone, admitted nerves got the better of her in the women's team final against China, USA Gymnastics distanced itself the from remarks made by Martha Karolyi, the team co-ordinator.
Karolyi said immediately after the US loss to China that officials at Beijing's National Indoor Stadium disrupted Sacramone's beam routine by delaying her performance for an extended period, breaking her concentration.
"First they called her name up, then they did not even put her name up even though the Chinese had finished ... (it was) totally unusual holding," she said.
"She was mentally prepared and then she had a mental break, then after not doing the job, the beam, on the floor exercise her concentration was bothered."
Sacramone fell off the balance beam then slipped over during the floor exercise, opening the way for the Chinese to post a 2.375 point victory.
Karolyi insisted the world champion US team would have won gold if Sacramone had not become unsettled.
But a few hours later, USA Gymnastics president Steve Penny said the delay involving Sacramone's beam routine happened because of scheduling issues related to the Games' television feed.
"It's a normal television thing that's typical in international competition," he told AFP.
"I don't know if Martha knew exactly the details of what was happening when she said that."
Asked if the outspoken Karolyi had lashed out due to the disappointment of seeing her team lose, Penny replied: "You could say that."
A distraught Sacramone was in tears as she recounted her Olympic nightmare.
"I think everybody knows there'll be good days and bad days, I just wish this was a good day for me," she said.
The 20-year-old was trying to perform a jumping mount onto the beam when she realised the manoeuvre had gone wrong.
"I tried to adjust in the air but I really couldn't save it, she said. "I tried to step back and there was just nothing."
Sacramone said the mistake on the beam in the third round affected her performance on the fourth and final exercise, the floor routine.