Sai Gon and southern Viet Nam was liberated, and Viet Nam was re-unified 31 years ago. Viet Nam has, 30 times, celebrated the Re-unification Day, April 30.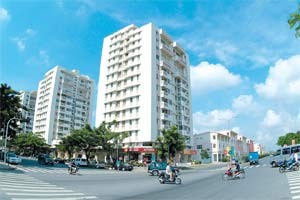 New apartment buildings in Saigon South, a big new residential area in Ho Chi Minh City. The city has developed fast in recent years. (Photo: SGGP)
Late April every year since 1975, the country has looked back to Vietnamese soldiers' movements towards Sai Gon that year. Many history lessons have been learned with the celebrations of this great victory for years. These lessons include those on great power of the people, attacks and uprisings; on how to take opportunities to attacks boldly at the lightning speed. All history documents and lessons from this great victory should be reviewed regularly so that younger generations can remember and learn from them.
More than 30 years have passed since Viet Nam was re-unified. All Vietnamese, despite which sides they took in the past, are now Vietnamese citizens or overseas Vietnamese who love their fatherland.
This year, celebrations of the Re-unification Day coincides with the successful closing of the 10th National Party Congress, which is considered the second congress for doi moi (renovation) policies.
In order to realize the Congress' Resolution, is it advisable that on the occasion of the Re-unification Day, each individual, organization, province and the whole country make self-assessments in comparison to the previous years? These assessments aim to point out what each person has done to help with the country's development. A question to ask yourself is what history lessons from the victory of 1975 are applied.
All Vietnamese citizens, wherever they are, in Viet Nam or overseas, can consider April 30 as a good example to follow. With this, we can celebrate our achievements and feel ashamed of our slow progress and poor performance.
Should we take April 30 as a milestone to improve ourselves, increase capacity and effectiveness, to take opportunities to create breakthroughs. If we can make it, April 30 will certainly be a good example to follow.