Viet Nam's premier football league has gone through only four rounds but there have been many problems relating to the referees. Meanwhile, the V-League organizing committee has reported that the referees have fulfilled their duties, but some referees have been found taking "favor" money from clubs.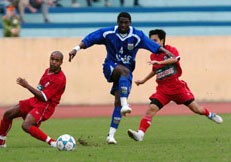 A scene in a V-League match (Photo: SGGP)
Before the league kicked off in January 2005, referees Luong Trung Viet and Truong The Toan had been arrested for taking bribes, and police had questioned many other referees. During a training session for referees before the league started, police officers had given training courses about bribery money disguised as allowances from clubs. But after the first four rounds of the league, the problem has appeared with unfair whistles by referees.
Some referees have not functioned fairly, so executives of the clubs could not help giving them some money. The first sign is that referees have ignored violence by football players. A question has arisen to fans is whether the Viet Nam Football Federation and the league organizing committee have realized this problem. Are they afraid of touching a sort of authority in the shadow? Fans have been so familiar with the federation's saying that they are determined to clean up football, while police and media have told the public many scandals.
I expect the federation to pay close attention to all referee-related problems, and to take effective measures.
A must for V-League is a team of "clean" referees – that is what fans wish.