Considering the huge expense, inadequate research, and certain cost to the environment, Sai Gon Giai Phong asks whether there is any sense to the US$7-billion project to constrict the Red River in Ha Noi by up to two kilometers in width and build on the reclaimed land.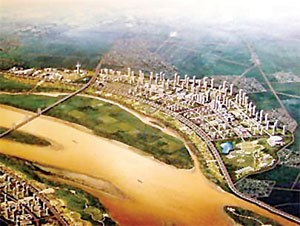 An artist's impression of the riverside city of Ha Noi
Never before has any urban planning aroused so much controversy as the scheme to narrow a 12-kilometer stretch of Song Hong, as the river is called in Vietnamese, from 3.5 down to 1.5 kilometers across.
Besides directly affecting 170,000 people living near the two banks, this mammoth venture, which would start sometime between 2008 and 2020 if approved, would swallow astronomical money and time.
From its inception, former Prime Minister Vo Van Kiet was worried about the scheme and expressed his doubts to the press. "I feel there's something amiss …. and for many reasons. One is that the Red River is very different, in terms of topographic features, from the rivers running through capital cities in other countries."
To back up their thinking, the planners cite the similarities between earlier flood-control projects of dykes and embankments along the river's banks and the successful project for the Han River flowing through the South Korean capital Seoul.
In their eagerness, however, they are paying scant attention to the differences between the two rivers.
Mr. Kiet worries that since the part flowing through Ha Noi is only short, moving its banks closer together would restrict the water flow and cause the river to eat away at the land.
Many private citizens have their doubts too and wonder if Ha Noi will have any energy left for other important plans if it spends the next dozen or so years developing the narrow strip.
Perhaps, they suggest, some of that massive quantity of money could be used instead for building traditional craft villages, pagodas, historical monuments or simply entertainment parks.
On their side, the planners have the fact that the rivers through several foreign capitals were partly reclaimed over the years and the new land made metropolitan, like the Seine in Paris, the Chao Phraya in Bangkok, and the aforementioned Han River in Seoul. They don't seem to have any problems.