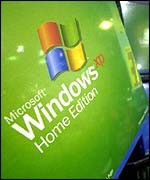 Microsoft creates more and more effective and user-friendly interface software programs
Currently, Viet Nam's software industry has 720 software businesses, 30,000 IT employees with the annual revenue of US$350 million, missing the 2005 targets of US$500 million in revenue and 50,000 IT employees.
Most of the Vietnamese software businesses are small, and the production and quality managements did not meet the standards. In addition they did not have the financial muscle to boost their marketing, Reseach and Development activities in developing local software. The quality of IT human resource has left much to be desired.
Some software development zones were setup based poor, subjective assessments, and therefore face with many problems expanding and developing further.
Bill Gates, the chairman of the Microsoft Corporation is on a visit to Viet Nam, from April 21 - 22, 2006. The history of Microsoft and how Bill Gates and his buddy Paul Allen started the company from a small shop into a global corporation might provide a valuable lessons for the Vietnamese software industry.
Nowadays, Microsoft is the biggest corporation in the world with over 84,000 employees and the annual revenue of tens of billion of US dollar.
During its development period, talented people were carefully selected and employed by Microsoft. But that's not enough, every employee has to take part in work-efficiency test once every six months. According to Mr. David Pritchard, Personnel Manager of Microsoft, recruiting average skilled people means putting an end to Microsoft.
Other golden principles of Microsoft making them a huge success are: striving to occupy 100 percent of market share, not fearing failures, supervising works strictly, having a unity and strong team work environment, having dynamic scale and structures, exercising maximum savings, providing incentives for employees to do their best.
The main task of Microsoft is to constantly create and improve their products to become more effective and user-friendly.
Development of Vietnamese software industry cannot be compared with Microsoft's. But Vietnamese software industry can learn a lot from Microsoft's achievements and their road to success.