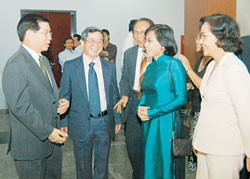 State Leader Nguyen Minh Triet (L) congratulates the newspaper's Chief Editor Duong Trong Dat (2nd from L) during the year-end summation meeting.
At every year-end, the Sai Gon Giai Phong newspaper and its collaborators, business partners sit together at a meeting to summarize the newspaper's achievements in the year and to develop an orientation in the coming years.
At their meeting this year, in a warm and friendly atmosphere, the participants were briefed on the 31-year-old history of the newspaper, from the time the four-paged newspaper up to the one with twelve pages now and became an important communication organization of Ho Chi Minh City.
It is possible to say that such activities like this meeting are very meaningful to the newspaper's staff including reporters, editors, business partners and collaborators. This meeting is also a timely encouragement and an orientation for those who work for the newspaper, contributing greatly to the development of the Sai Gon Giai Phong newspaper – the voice of the Ho Chi Minh City Party Committee, government and people.
We hope that the year-end meeting will become an annually forum, which reflects the spirit and expectation of the city's authorities and people. This forum, organized 10-15 days before the summation meeting, will include different articles and opinions from reporters, collaborators or business partners on topical and burning issues of economy, politics, and society. The typical guidance of the city's authorities and urgent matters of the citizens can also be published for consideration at the forum. This will play a significant role of a direction for the newspaper.
Then, at the summation meeting, the Editorial Board of Sai Gon Giai Phong newspaper can select among these articles and opinions the best in each field to give prizes. Besides, the board can also give their own comments and evaluation for a conclusion.
If we can achieve this, we believe that this forum would be more eventful, meaningful and become an important voice of the city, not merely an annual meeting of the newspaper.
                                                                                            Tran Quang Tuan
Reader Tran Quang Tuan sent a letter to the Sai Gon Giai Phong newspaper after taking part in a year-end summation meeting of the newspaper last Monday.