In recent years, Viet Nam has sent 60,000 to 70,000 workers overseas, raising the number of Vietnamese, including experts and workers - skilled and unskilled – in foreign countries to 400,000. They remit home more than US$1 billion each year, especially US$1.5 billion from 2004 to 2005.

However, Vietnamese workers still face risky problems such as losing jobs, diseases, accidents at work, traffic accidents, etc., especially in Malaysia where more than 100.000 workers from Viet Nam are working.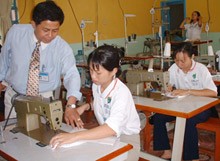 Laborers are trained before going abroad to work. (Photo: Khanh Binh)
Many of the laborers in trouble often fall into difficulties when they come back to Viet Nam.
Thus, the Ministry of Labor, War Invalids and Social Welfare, should consider a "Risk Assistance Fund for Labor Exports" which should be contributed by Vietnamese workers oversea. Then they can receive a sum of money to tackle their problems in case of difficulties.
 In Philippines, for example, each worker must contribute US$25 to the "Welfare Fund for migrant labors", which is similar to the "Social Insurance Fund" in Viet Nam.
The current "Vietnamese Assistance Fund for Labor Exports" is still small in scale and slows in operation, but it is mainly used for supporting labor export development and opening new markets rather than supporting the exported laborers themselves.

So when will a "Risk Assistance Fund for Labor Exports" be created in Viet Nam?