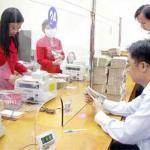 Banks play an important role in assisting farmers. (Photo:SGGP)
Rural and Agricultural Credit in 2005 in Ho Chi Minh City increases up to 30.7% year - on - year. Of the total loan of VND5.3 trillion, normal loan makes up 81% with VND4.3 trillion, preferential loan makes up 17% with VND906 billion and the VND107 billion remaining loan comes from government's credit program.

Especially, Ho Chi Minh City People's Committee highly appreciated the Agricultural Program 419 (fresh vegetables, cayenne pineapples, cows, sugpo prawns) in 2005 for its remarkable achievements. The total loan for this program is around VND175 billion, in which loan for sugpo prawns accounts for 70%.

Agriculture plays an important role in the socioeconomic development although it makes up only around 2% of Gross Domestic Product of Ho Chi Minh City. The increase of Rural and Agricultural Credit effectively boosts the process of eliminating hunger and reducing poverty, bridging the gap between the rich and the poor.
Noticeably, some farmers have become investors and potential exporters thanks to these loans.

 However, the credit is too small to meet the increasing demand of tillers.

Furthermore, this capital is dispersed widely and different interests from many banks (Development Assistance Fund, Social Policy Bank, The Bank of Agriculture and Rural Development) have caused difficulties for borrowers.

Ho Chi Minh City People's Committee has some solutions like keeping on the Program 419, improving the process of loan application. Agricultural products, regarded as the city's commodities with competitive advantage, among which seeding, ornamental plants, ornamental fish should be promoted.

In fact, the banks must attract more long-term and medium-term credits so that farmers can conveniently borrow for a longer time.