Many people in Ho Chi Minh City, especially youths and intellectuals, are paying close attention to Go Vap – the first district to organize exams to recruit ward-level officials, as regulated by the Ho Chi Minh City People's Committee.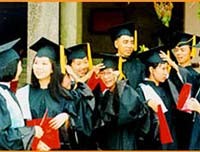 University graduates in Viet Nam
Among more than 500 applicants so far, more than 300 have signed up for ward- and commune-level positions. All recruitment steps and stipulations have been publicized, said Chau Minh Ty, director of the Ho Chi Minh City Department of Internal Affairs.
The most important criteria is that candidates must commit to the people. They must also possess enough skills and qualifications. When surviving a probationary period, a selected candidate will get a monthly salary of at least VND1.4 million (US$88).
Publicly recruiting local officials in Ho Chi Minh City is considered a breakthrough of the People's Committee to improve the quality of officials. The innovation needs to be spread out to all districts, agencies and fields.
After the breakthrough, salary and income for the qualified officials must be worthy, enough to prevent 'the brain drain' towards business fields.