The big day when Viet Nam becomes the 150th member of the World Trade Organization (WTO) is getting nearer. WTO membership will offer opportunities and challenges for the country's economy.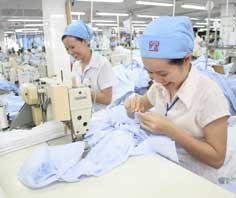 Workers of Viet Tien Garment Company (Photo: Lao Dong)
It is said that Viet Nam cannot compete with the world in terms of intellectual property and consultancy in the initial stage, so the country should focus on production and service instead.

Viet Nam has been known with a stable political mechanism; besides, the National Assembly and the government are actively improving the legal framework.

However, in order to compete, there should be myriads of enterprises with experienced and sharp-witted businesspeople.

Vietnamese businessmen used to focus on the domestic market only; once the country enters WTO, they will no longer have a monopoly on the domestic market, and the competition will be more hectic.

What would help them share the market? High-quality products at competitive prices would help.

Besides, when it comes to global integration, the cooperation between local partners will be essential for them to improve their competitiveness.

Opportunities and challenges always come together. Vietnamese companies will have a chance to become good brand names and expand their business onto the international market.

Challenges are that whether they could stand tough together or become divided. And they must be determined to launch their products onto overseas markets by means of export or cooperation with their strategic partners.

Good "ambassadors" needed

Viet Nam is really in need of "ambassadors", who can bring the State's laws and policies to local enterprises and communicate the proposals of enterprises to the government.

The Vietnam Chamber of Commerce and Industry (VCCI) is one of them. Also, Vietnamese embassies' trade representatives are playing an important role in this respect.

However, the relations between VCCI and local enterprises have not matched expectations.

Furthermore, Viet Nam has only a small number of non-governmental organizations and trade organizations that can help promote trade and investment.
Related Articles:
Viet Nam to Be Admitted to WTO on November 7
Viet Nam to Join WTO in November