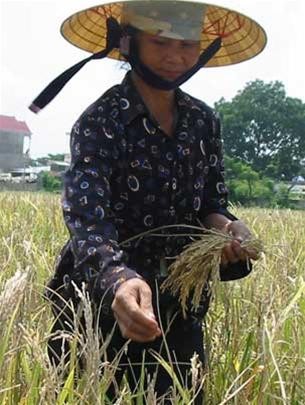 Are Vietnamese farmers strongest affected in the new WTO era?
Viet Nam's WTO accession will impact on the 70 percent of its people who work in agriculture by securing key export markets but also threaten them with much tougher competition at home, experts say.
"Viet Nam's joining the WTO is necessary and will help the country develop its agricultural sector more quickly and strongly," Agriculture Minister Cao Duc Phat told AFP. "It will bring great opportunities, and great challenges."
Viet Nam, a war-shattered command economy 30 years ago, has made spectacular gains since, emerging as the world's second largest exporter of rice and coffee and a major producer of seafood, rubber, pepper, cashew and tea.
Its admission to the World Trade Organisation agreed on Tuesday will secure greater export markets for the country of 84 million people and give Hanoi a recourse in case of trade disputes.
But joining the global trade club will also force Viet Nam to drop support for its farmers and force them to adopt more modern and high-tech methods.
Under the rules laid out in its 900-page WTO accession document, Viet Nam must scrap farm export subsidies and reduce import duties on products including soybean, cotton, beef and pork products, and many fruits.
It is allowed to help its farmers with trade-distorting support of up to 246 million dollars on top of the usual developing country allowance of 10 percent of the value of domestic agricultural production.
But Viet Nam remains globally uncompetitive in some farm sectors and has little experience in marketing or branding many of its agricultural products, said researcher Pham Duc Minh of the Agriculture Economics Institute.
"Agricultural production is mostly based on human labour and on a very small scale," said Minh. "Viet Nam is still weak in the processing and trading of many agricultural products for export. The technical and transport infrastructure is weak. We can say that Viet Nam's agriculture is not prepared for the big game."
Viet Nam's economy has grown by 7-8 percent for years, but much of the wealth has been generated by export-driven industrial development in and around cities, while the urban-rural wealth gap has widened.
Much of rural Viet Nam remains dominated by family rice fields worked by farmers using water buffalo not tractors. The countryside is picturesque but, says the UN Development Programme, also home to 90 percent of Viet Nam's poor.
"What drives growth is moving people from very low productivity occupations, like growing rice on very small rice fields, to higher productivity jobs," said the UNDP's chief economist in Viet Nam, Jonathan Pincus.
Agriculture employs the bulk of Viet Nam's people but last year contributed only 8 billion dollars, or 15 percent, to the country's gross domestic product of 53 billion dollars, according to government figures.
For all of Viet Nam to benefit from the opportunities brought by WTO accession, the farm sector must shift from traditional, labour intensive methods to the rules of modern agri-business, say officials and observers.
Guy Lacombe, Viet Nam chief of French supermarket chain BigC which sources produce in Viet Nam, agreed that "with WTO accession, local producers will have to adapt to international rules if they want to export.
"They will have to make real efforts to respect requirements in terms of quality control, strict food hygiene and the social rights of workers. They will also need to let clients really control what happens in the plants."
But Lacombe said he was "quite optimistic" Viet Nam's producers would adapt to WTO rules in the medium term, often using the know-how of foreign partners.
Many officials and experts downplayed the likely harm of WTO accession, saying farm subsidies are already low and that farmers are used to tough competition, thanks to trade deals with regional countries including China.
"At the moment subsidies are between one and three percent of total exports, depending on the product," said an Agriculture Ministry official. "The percentage is not big at all."