The impending darkness of night begins to fall on the city. It is time for many people to rush home on their vehicles after their 9-5 jobs and enjoy a cozy dinner with their families after a hard working day. It is also time for some others to go out into the busy streets to start toiling away for a living.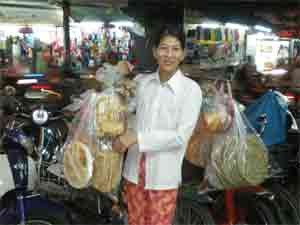 Banana girdle cakes
Many of these people are vendors who travel from place to place, and walk from street to street to sell small, inexpensive items: toys, lottery tickets, snacks and other kinds of food, newspapers and magazines… the list goes on.
Most of vendors are immigrants from the poorest villages nationwide to the bustling, chaotic city in search of opportunities to earn some money and become successful. Some may achieve success. Many don't.

Saigon has a lot of restaurants, not expensive but small ones that allow vendors to go in to sell their simple wares to diners.
If you were sitting in such a restaurant at night, you would see many old and young people, some of them are even students, taking turns to come to your table to invite you to buy lottery tickets. This seems to be one of the easiest ways for immigrants to earn some money, thanks to a large number of city dwellers who nourish fond hopes of becoming overnight millionaires.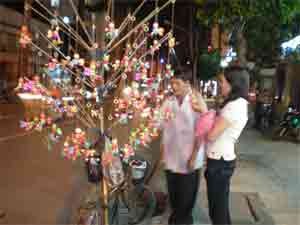 Nightlife: Vendor of toys
I was seated at a table in a vegetarian restaurant one night when a middle-aged woman with a wrinkled, weather-beaten face approached me. She held out a wad of lottery tickets and asked: "Want to have a chance to win the grand prize lottery this evening, sister?"
I told her I didn't play the lotto but would give her some money instead. She refused, saying that she just sold lottery tickets; she did not beg for money.

I got talking with her, and learnt that she used to live in Tuy Hoa, the capital of Phu Yen, a coastal province in the south-central area. "My husband is poor fisherman. I left my hometown two years ago for the city to earn a living. We need money to pay for the schooling of our two kids, who are high-school students."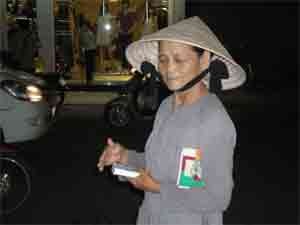 Lottery tickets
"I arrived in HCM City with VND150,000 in my pocket. After looking for a boarding place in narrow but busy alley in a slum, I came to a lottery agent and bought the first ten tickets from him. I walked the streets to sell them.
After they were sold out, I went back and bought another ten. Things went on like this for three months, then the owner of the agency began to trust me and let me take the tickets with a deposit, collecting the remaining amount later."

She begins work at 5:00 p.m. every evening and does not go home until 12:30 a.m the following day. "I don't know how many kilometers I have to walk each night, but I always come home with weary legs. To earn between VND 40,000 and 60,000 a night, I have to sell out 100 tickets. It's really hard to sell so many on rainy nights. Sometimes I've had nightmarish evenings when rains closed the market, and I could not sell my tickets."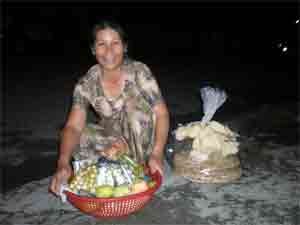 Assorment of nuts and fruits
Getting out of the restaurant, I hopped on my motorbike and drove around the city and found thousands of peddlers wandering on streets, traveling on their bikes or pushing carts. Standing in front of a large restaurant lit up by neon lights and colored bulbs was a young man selling toys.

A bamboo pole was vertically tied to the frame of his old bicycle. Hung from the branches sticking out of the pole were colorful wooden butterflies, dragonflies and winged ants for sale.
Attracted to the cute toys, many parents stopped their motorbikes to choose one or two for their kids at home. By selling around 40 toys at VND20,000 each, he could earn VND100,000 a night, which helped his small family barely get by.

I then met and talked to a smiling woman who was carrying a basket containing some peanut candies, boiled quail eggs, boiled peanuts and pomegranates against her left hips, and in her right hand was a large bag of grilled sesame girdle cakes. She said: "I earn about VND40,000 a night. I can earn much more if I work as a maid for a well-off family but I'd rather be a peddler. I can't stand the relationship between master/mistress and servant, you see."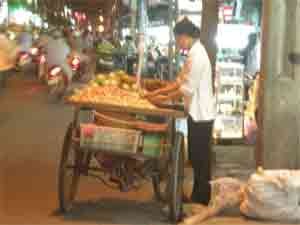 Fruits
On my way home, I stopped and talked to some other vendors. Despite earning very low incomes (no one was earning more than VND100,000 a day), I was surprised that most of them felt no envy for so many affluent people around them, who get out of high-priced motorbikes and expensive imported cars to go into chic clubs where XO wine could be seen on almost every table.
They trust that earning an honest living at present is the best policy as it will lead to a good future. They also trust in the bright future of their children.

As the poor lottery-ticket seller said: "From time to time, I receive encouraging news about my kids' good progress at school, this is the most rewarding feeling. I seem to almost forget my painstaking job then."