For collector Ung Thanh Dung, antiques are a window to the history of civilization.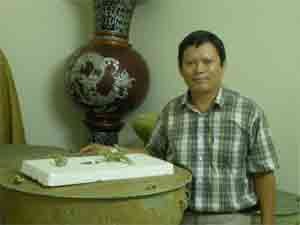 Collector Ung Thanh Dung
His passion for antiques is rooted in Vietnam's struggles for freedom spanning centuries.

"When I was young, history was my favorite subject at school. I was inspired by the people's indomitable spirit that has written glorious pages in the country's history. It was my childhood interest in our ancestors' glorious feats against the enemy that shaped my desire to collect instruments of war and death including drums, swords and canons," says collector Ung Thanh Dung.

Dung graduated as a mould-casting engineer in 1981 and joined the army in 1986 to become a communications officer. Although busy with the army life, Dung managed to set up a mould- casting factory to earn enough to sustain his passion to collect antiques.

At the outset, Dung bought all kinds of antiques including Dong Son drums, which were used as weapons, jewelry, utensils and ritual objects by people between the 6th and 7th centuries BC.
"Until 1998, I had bought about 10 drums which later turned out to be imitations, showing up my lack of experience and knowledge of antiques. I was just an amateur at the time, you know."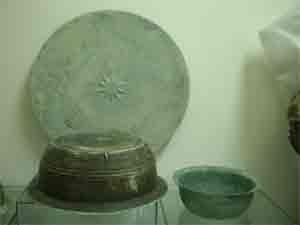 Two in one: A basin for holding water becomes a drum when turned ove
In 2003, Dung joined the Southern Antique Collector Association, and began to learn a lot more about how to identify genuine antiques. Once he felt confident enough to make a new beginning, he sold two plots of land and a house to indulge in his expensive hobby.

Dung hunted for the Dong Son drums again.
He now owns a collection of 12 Dong Son drums and some " trong chau" (basin drums) excavated in Quy Nhon, a coastal city in the Binh Dinh Province.

It is said that when invaders from the North dominated the country, they banned the production of drums which were seen as instruments to call for people to rise up in arms.

Not yielding to the enemy, the Vietnamese people cast basins for holding liquid that would become a drum as soon as they were turned over. Carved on the center of these basins is a star, or maybe the sun, around which are concentric circles, filled in with various motifs and images like any other bronze drum.

Dung also has a unique collection of 40 small ancient canons including one that is two finger spans long with a large crack on the barrel. The crack is large enough to insert an adult finger. Dung explains that the canon-ball blocked the barrel and the pressure of the explosion cracked it.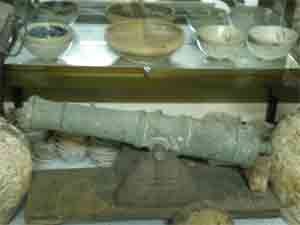 Collector's items
Among his collection of over 2,000 antiques and artifacts, Dung treasures most a sophisticated copper trigger of a crossbow documented as made in the Dong Son era about 2,500 years ago.

Dung says admiringly: "While weapons used by people in the prehistoric culture in other regions in the world were mainly bows and arrows, I wonder how Vietnamese people of that time, without machines and equipment, could make such an advanced weapon. The breakthrough is a clear proof of ancient Vietnamese people's intelligence, ingenuity and resourcefulness

There is a romantic legend about espionage affair behind the crossbow. Saint Kim Qui (Gold Turtle) offered An Duong Vuong, the king of Au Lac, now Vietnam, one of his claws to make a magic trigger for his crossbow to help protect the Co Loa citadel from enemies. An arrow shot from this crossbow would kill a thousand enemies simultaneously. To keep the crossbow safe, the King hung it in his bedroom.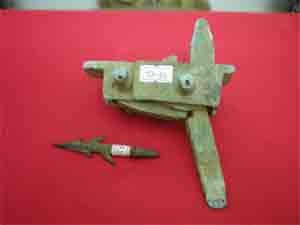 The trigger of the magic crossbow
Trieu Da, governor of a country to the North of Au Lac, had for long wanted to take over the country. All his attempts failed, however. Trieu Da then set up a diplomatic relationship with Au Lac and sent his son Trong Thuy to seek a marriage alliance to secretly collect information about the crossbow.
Trong Thuy married My Chau, a beloved daughter of An Duong Vuong, and became a member of the royal family. He contrived to ask his wife, apparently per chance, about the magic crossbow. The innocent princess in good faith took her husband to the king's bedroom so Trong Thuy could see the crossbow with his own eyes. Trong Thuy memorized all details of the crossbow in his mind.
Trong Thuy then asked the king for permission to go back to his country and visit his father. Trieu Da immediately had a fake crossbow made which Trong Thuy used to replace the original that he stole after secretly breaking into the king's bedroom.
Trieu Da then used the magic crossbow to attack Au Lac. An Duong Vuong was defeated. The ending of the legend is a tragedy with the death of My Chau and Trong Thuy.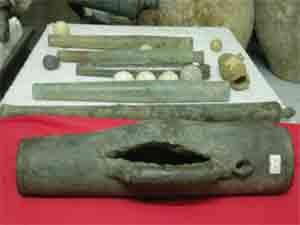 A miniature canon with a large crack on its barrel
"The story was true but 'legendized', I guess. Trong Thuy is said to have stolen the magic crossbow, but I think he successfully stole the advanced technology of An Duong Vuong's crossbow," says Dung.

Although his large 4-storey house in Go Vap District is packed with antiques of all kinds, the collector says that he will continually hunt for them, as he treasures the spiritual values of the past.

"The study of antiques is the study of history of civilization itself. The creation of an object is often linked with a certain era, dynasty or with a significant historical period of a country.

"That's why I always leave my door open to anyone who wishes to come here and see the antiques for study or research purposes. When I pass away, I will leave all my antiques to the museums."