Mr. Hoang Minh Ha, a young architecture student with a lingerie collection entitled "Midnight Butterflies," has earned the honor of representing Viet Nam in a renowned global design competition for lingerie named Triumph Inspiration Award, which will be held in Beijing from July 28 to 31.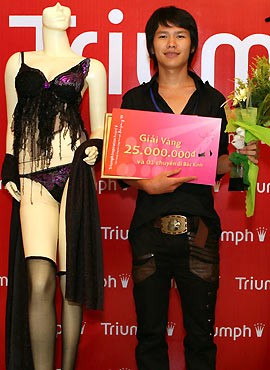 Hoang Minh Ha (standing next to his winning design) receives first prize at the national competition
Mr. Ha and his sensual designs, inspired from the mysterious beauty of midnight butterflies, helped him surpass 11 other Vietnamese finalists to take the first prize of VND25 million (US$1,560) and a spot in the final round of the competition in Beijing.
Feminine beauty is what urges him to push his creativity to its limit, he said. When he was out of ideas for the collection's main theme, he caught a glimpse of a beautiful midnight butterfly and that was when the collection began to take shape.
However, Mr. Ha also faced many challenges in execution and in choosing suitable materials and colors for the clothes. His final choices were elastic fabric and voile to make the clothes more comfortable. As for the colors, black, blue, purple, and silver were chosen to portray the mysterious, surreal beauty of midnight butterflies.
Triumph Inspiration Award is a global design competition created by the lingerie specialist Triumph International. The contestants are fashion and design students in more than 25 countries from Finland to South Africa and from Japan to Israel.
The international winner will pocket a cash prize of 15,000 euros (US$24,000) besides having their showpiece adapted and interpreted by the Triumph design team, leading to series production of the set.