At 7:00am, we got into our car to start from Sa Pa, a small mountainous town frequently covered in mist, and headed to Ta Phin Village just 12 kilometers away. There we would enjoy our first experience with a traditional herbal bath, a treatment offered by some of the women from Viet Nam's Red Dao ethnic minority.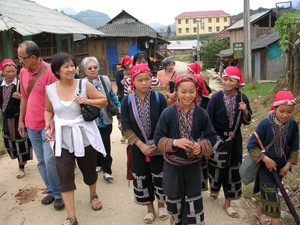 Dao ethnic members walking with foreign tourists in Sa Pa
We drove past many plateaus with their scenic thatched-roofed cottages and terraced fields. When we arrived in the parking lot, bunches of Red Dao people, welcomed us in their traditional costumes.
As it turned out, the people were vendors and they were the ones who took us to the village. There was still a long way to go before we actually got there. I walked side-by-side with a teenage girl who had become my new guide, and it was enjoyable chatting with her. To many tourists' surprise, some of the Dao people (especially teenagers and children) can speak not only Vietnamese but also English and other foreign languages despite having never attended language school. Their voices sounded sweet and soft – like birds singing, you might say.
After an hour's walk, we finally set foot in the village of the Red Dao people, which was spread over a long stretch of road with low hills and lined with small trees. I told my guide that my friends and I wished to try the Dao people's traditional herbal bath, which has become recently sought out by tourists for its therapeutic effects and health restoration.
The Bathhouses of Ta Phin
My guide immediately took me to the house of Ly Man May, one among a handful of Dao women in Ta Phin who offer the service. May said, "Not many people here can identify the right medicinal plants for the herbal bath, as the know-how of identifying the proper herbal plants and leaves is only passed from the mother to her daughters in the family."
"The number of kinds of medicinal plants used for boiling the bathing water ranges from ten to 120, depending on the therapeutic effect desired." Pointing to the mountainside behind her cottage, May added, "For most of the herbs, I have to go deep into the forest to gather them, while some can be grown in the garden on the mountainside over there."
After asking me to wait for awhile, May walked quickly towards the garden and fifteen minutes later, she came back with the basket full of medicinal plants which would then be cut into small pieces and put into a large pot of water for boiling.
When the water in the pot turned a light brown color, May took it to a small bathroom and poured it into a round bathtub made of wood from the Po Mu tree (Fokienia Hodginsii), a precious timber valued for its characteristic aroma and its exceptional weight.
Some cool water was added to the tub to lower the temperature of the bathing water to between 43 and 46 degrees centigrade, and then I was finally able to enjoy this sensual experience.
Taking the Plunge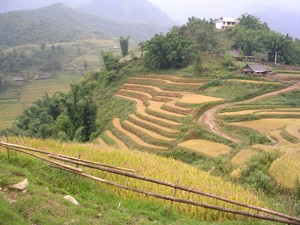 A plateau with its scenic thatch-roofed cottages and terraced fields on the way to Sa Pa
As I dipped one of my feet into the water, and then the other, I realized uh oh! The water was terribly hot! I soaked my whole body in the hot water by slowly lowering my legs and sitting on my heels. I immediately felt as if many small, sharp points were pushing into my body, but this was just the effect of the heated water on my skin.
The tingling sensation lasted for just a few minutes, and then the vapors carrying the scent of the herbal remedy began sneaking into my nose, mouth and eyes, embracing my face and enticing my senses. My mind was immediately tranquilized and with my muscles at such ease I felt as if I were bobbing in the air. Sweat began dripping from my head and my skin became "as red as a boiled shrimp."
Buoyant, relaxed and feather-light were what I felt when I stepped out of the bathtub.
According to the wisdom of the Dao people, an herbal spa helps especially in regards to physical and mental fatigue as it helps relax your body and renew your energy by enhancing overall circulation and soothing your daily tensions. For women, the herbal bath promotes skin beauty by opening pores, removing dead skin and impurities and leaving the skin soft, clean, and silky smooth. The bath also relieves some illnesses including rheumatism and joint pain.
If you ever have a chance to visit Ta Phin, consider giving these amazing baths a try. A unique herbal treatment that can only be found among the Red Dao, it's healthy, enjoyable, and can also be great fun.