For over the past decade, among a handful of bonsai cultivators in District 12, Nguyen Van Toan, 57 and his wife, Phan Thi Y, 46, have been recognized by those who are fond of caring for miniature trees as successful creators of an art form.
Bonsai is the art of aesthetic miniaturization of trees by growing them in tray pots. It originated in China at least 2,000 years ago. The art form then made its way to Japan and later to other countries.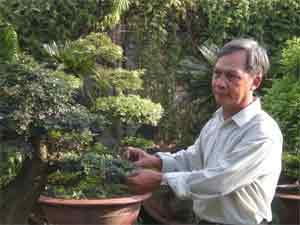 Toan tends a bonsai tree in his garden
Toan's 1,000-square-meter garden in An Phu Dong Ward is packed with bonsai trees of all kinds and sizes. Most of them are wrightia religiosa hook.
There are also miniature rosewoods, fir-trees and mandarin-orange trees over 100 years of age with large knotted trunks.
Despite their age, these trees are all less one meter high. Whenever looking at these wonders of art, contemplators are not only impressed by their beauty but also by the results of hours upon hours, and indeed years upon years of Toan's work.

Toan said, "I was born in a farming family and inherited this plot of land from my parents. Like other farmers in the area, we used to grow jasmines and mandarin-orange trees which offered low economic-value crops.
Some 15 years ago, while most farmers in the region switched to growing ochna integerrima and decorative mandarin- orange trees used for decorations during Tet, I and my wife decided to grow bonsai as we were interested in these dwarfed plants and trees and in the timeless growing practice passed down from thousands of years. Growing bonsai is a unique and beautiful art form, I can say."
Toan added, "My wife and I began to learn how to prune and train a bonsai tree which is seen as a key to success.
These techniques are essential not merely to a bonsai's appearance but alos to the overall health of the tree. Many different kinds of trees are used in bonsai growing, but each of them is only suitable for training a sole style.
If you try to train the wrong kind of tree into an unsuitable shape, you'll end up killing the tree or growing an unattractive design."

After taking basic and advanced training courses on bonsai and cultivation and creation at Thanh Tam Bonsai Art Vocational Training Center, the only school for this kind of art in the city, Toan began to go into local farmers' gardens to look for trees that had trunks and feet in the desired shape.
Many times, Toan was lucky enough to be given old trees whose large trunks were partly rotten because of worms. Toan took them home and he and his wife started their experiment on bonsai creation.

They removed the rotten part and pruned both the leaves and the roots of the trees. According to Toan, before pruning, a bonsai cultivator should imagine how shallow the pot in which the bonsai would be grown forever is and prunes the roots of the tree in a way that the length of the pruned roots must be the same to the depth of the prospective shallow pot.
After being pruned, the tree will be first planted in a deep pot for a dormancy period which lasts two or three months. Toan explained that although its roots are pruned short and will grow no more, the tree should be grown in a deep pot with adequate land for nourishing purposes so that it can survive.
When one young bud and following another appeared on the pruned trunks and grew into young stems to give the signal that the dormancy of the trees did come into an end," added Toan, "my wife and I again uprooted the trees and planted them in the shallow pots.
We removed unwanted stems and used copper or aluminum wires wrap around branches and trunks to hold the branches in place until they turned into wood of desired shapes. The wiring process usually takes between six and nine months or one growing season.

Toan and his wife paid abundance of care to their first bonsai trees. It took them from between three and five years for pruned trees to be converted into dwarfed ones that had amazing desired shapes and sizes.

Thanks for the initial success, Toan and his wife decided to pull up all their jasmines and mandarin- orange trees to grow wrightia religiosa hook. The garden no sooner became a place where his and his wife's talents and skills began to fully bloom. The married couple began to get better off by supplying city residents with potted miniature trees dripping with aesthetic charm and energy.
To many, a bonsai tree on the desk will make their work more relaxing
Toan said, "Bonsai has a special place in our hearts. We grow and sell them not only because of money. As creating these wonders of nature required a lot of patience, cultivators should have a great passion about what they do; otherwise, time will be wasted."

Toan emphasized that the number of well-off people in the city crazy with dwarfed trees has been on the increase. He pointed that those who tend to bonsai care are rewarded with more than just beautiful trees.
They are also given a stress reliever that other hobbies many not offer as growing a garden full of bonsai plants offers a way for a person to relax and get away from their busy lives as well as owing a property of high value.

"Bonsai trees cost a lot of money, especially those created from very old trees. Many cost hundreds of millions dong," said Toan. "Bonsai trees, if properly cared for, can live hundreds of years. For many people, how beautiful it is to hand down a living legacy of beauty and of very high value from generation to generation."