There are several of UNESCO's designated world heritage sites attracting a large number of tourists from near and far in the historically and culturally rich central region of Viet Nam.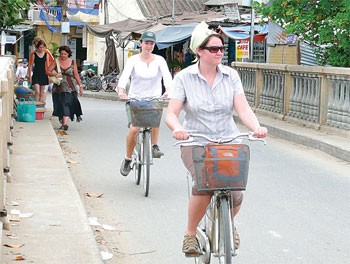 Two foreign tourists pedaling their rented bicycles leisurely in Hoi An ancient town 
International and local tourists now can book a five-day, four-night or a four-day, three-night "central region's heritage road tour" through local tourism agencies to explore many of the beautiful landscapes as well as world heritage sites in this region.

A five-day and four-night tour by airplane departing from Ho Chi Minh City is designed with two different destinations for tourists to choose. The first one will take tourists to several tourism sites in Da Nang City, ancient Hoi An Town, Hue City and Quang Binh Province. Joining this tour, visitors will be transferred to the airport and flown to Da Nang. Upon arrival, tourists will visit Ngu Hanh Son, a group of five mountains representing the five basic elements of metal, wood, water, fire and earth, in Da Nang City.

Then, tourists can try to conquer one of the mountains of Ngu Hanh Son and visit the Linh Ung Pagoda, Huyen Khong and Tang Chon caves. At night, tourists will have some relaxation time to wander around Hoi An, just around 30km away from Da Nang and one of UNESCO's designated world heritage sites, with famous stops such as the Japanese roofed bridge Lai Vien Kieu and Tan Ky ancient house.

On the second day, tourists will go to Hue City to visit the palace of former royalty, which is also a World Heritage site, and take a tour of the Huong (Perfume) River by boat to view Trang Tien Bridge and listen to Hue's traditional music and release colorful lanterns onto the river to wish for happiness and prosperity. Then they will visit the southern province of Quang Binh, where there are the historic sites of the Quang Tri Citadel, Ben Hai River and the Hien Luong Bridge, and the World Heritage site of Phong Nha Cave in the Ke Bang limestone mountain. Tourists will go back to Hue City at the end of the fourth day before returning to HCMC in the afternoon.

The second type of the five-day, four-night tour will also take tourists to Da Nang City, Hue City and Hoi An Town, but excludes Quang Binh Province. Despite not stopping in Quang Binh Province, tourists will have more time exploring the beauty of the cities and the ancient town. They will depart from Ho Chi Minh City by airplane to Da Nang and spend the first day discovering the ancient town of Hoi An in the light of colorful lanterns. On the second day, tourists will visit My Son Sanctuary, the religious center for the capital of the Champa Kingdom in the 7th century in Quang Nam Province, about 69 kilometers southwest of Da Nang. Tourists will also explore Ngu Hanh Son on the third day and go to the tourism site of Son Tra Peninsula.

The tour continues to Hue City with a stop at Hai Van Mountain Pass for tourists to take photographs and view the beautiful landscape of the Lang Co fishing village. At Hue City, tourists will visit the palace of former royalty, watch a dancing and singing performance of royal music and enjoy Hue's specialties.
For those who lack time, the four-day, three-night tour by airplane could be another option as it will take tourists from Ho Chi Minh City to the most famous landscapes and world heritage sites in Da Nang and Hue cities such as Ngu Hanh Son, Hoi An and the ancient royal palace in Hue City. A visit to Ngoc Island in Da Nang City added to the tour will give tourists a chance to explore a primeval forest and a beautiful beach with sea sports such as kayak racing and diving to observe the island's coral.