Vina Media Company plans to install from 50 to 100 booths this year at luxury hotels, shopping centers, banks, entertainment venues and the airport in Ho Chi Minh City to provide information for tourists.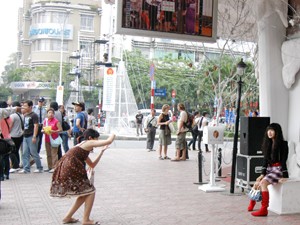 Two foreigners take photos at Tax Plaza, where Vina Media will install tourist information booths late this month
The city's Department of Tourism has allowed Vina Media to carry out the plan, and the company schedules to install the first touch-screen computers at Tax Plaza near the City Hall late this month.
After 50 to 100 tourist information kiosks in HCMC, the company will expand the project to other cities such as Hoi An and Da Nang in the central region.
Earlier this month, another company, Dat Viet Advertising, started a plan to install tourist information booths in HCMC, putting online the first 13 ones in districts 3 and 5.
The kiosks supply information about entertainment services, shopping sites, means of transport, bus routes, the addresses of banks, and ATMs. Tourists can also search for introductions to tourist sites in the city, emergency telephone numbers and other necessary information.
Dat Viet plans to establish about 100 booths in the city. Total spending for the plan is VND32 billion, or some US$2 million.