A collection of more than 100 Dong Ho prints are being displayed at Hoa Da Café at 349/175 Le Dai Hanh Street in District 11 from June 8 to 22.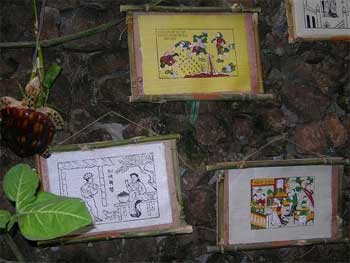 Dong Ho paintings are displayed at the Hoa Da cafe
Mr. Tran Manh Hiep, owner of the collection, has a passion for woodblock prints. Mr. Hiep and his friends have spent many years collecting these prints to present to fine art lovers.

The Dong Ho style of folk prints originated about 300 years ago in the village of Dong Ho in the northern province of Bac Ninh.

Today Dong Ho is a tourist attraction that appeals to a great number of visitors every year. They come to learn about the process of making a Dong Ho print and gain a deep knowledge of the culture, land and people of Viet Nam.