Old Quarter in Ha Noi's Hoan Kiem district is a cultural and architectural heritage of the city. There are 170 cultural, historical, revolutionary and resistance war sites in the district.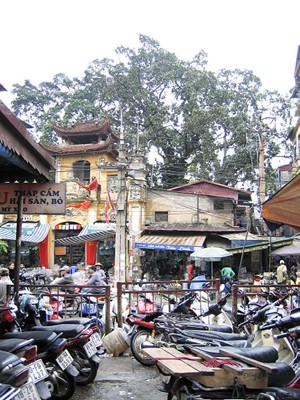 A corner of the Old Quarter near Dong Xuan market
The Old Quarter
At the beginning of the 20th century, Ha Noi had only 36 streets, most of which are now in the Old Quarter. Each street had merchants and households that specialized in a particular trade, such as silk or jewelry.
The street names reflect these specializations, although streets do not focus exclusively on the trade they are named after. The area is famous for its small artisan and merchant operations, including many silk shops, crafts such as kites, decorative multicolored lanterns, palm-leaf conical hats, Ha Dong silk and Bat Trang bricks.
Local culinary specialties, as well as several clubs and bars, can be found here. A night market near Dong Xuan market in the heart of the district opens for business every Friday, Saturday and Sunday evening. It sells a variety of clothing, souvenirs and food.
Some years ago, Hoan Kiem district authorities decided to open the Dong Xuan night market together with Hang Dao–Dong Xuan Street for pedestrians only on weekends to create new attraction in the district.
The Hang Dao–Hang Ngang–Hang Duong–Dong Xuan circuit was selected. At least for the short term, it is reserved for pedestrians on weekends, but only in the evenings.
Silk shops on Hang Gai and Hang Bong streets are very busy serving foreign tourists. A shop on Hang Gai Street welcomes many chiefs of state and high-ranking foreign officials. In November 2000, U.S. President Bill Clinton visited this shop.
….And night market
Ha Noi has two night markets, Nghi Tam flower market and Dong Xuan commercial market. One can see many foreign visitors with cameras at these markets.
Dong Xuan night market has a warm atmosphere that makes visitors feel like they are on a walk or on a tour, not in a market to bargain or to buy things.
Dong Xuan night market has 67 handicraft, garment and food shops. The night market adds colour to the lifestyle of the residents of Ha Noi and makes the Old Quarter more attractive to foreign tourists.
The night market, which includes Hang Khoai, Nguyen Thien Thuat and Cau Dong streets, is divided into three parts. The first area has 12 stalls that sell handicrafts and souvenirs. The second area has 44 stalls that sell clothing, cosmetics, silk and footwear. In the third area, there are 11 stalls that sell food and drink.

The streets are also used by the Hanoi Service of Culture and Information to organise shows and for travel companies to market their tours.

The market will remain opened until 2 a.m.