The Dynasty Resort (Hoang Trieu) is located on the beautiful beach of Mui Ne Bay, Vietnam. As one of the most desired resort vacation in Asia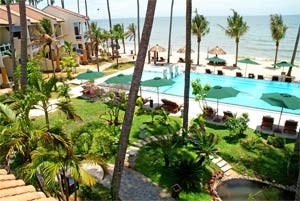 Dynasty Resort
The resort offers international standard accommodations in traditional Vietnamese courtyard style architecture with an elegant tropical garden and a private beach. We courteously welcome you to enjoy our unsurpassed hospitality and facilities.
Dynasty Resort - Mui Ne, 240km from Ho Chi Minh City, is the newest and most attractive beach vacation destination in Vietnam. Blended in blue ocean, lines of coconut trees and miles of sand beach, Mui Ne remains its charming fishing village origin with tranquility. Dynasty Resort is located at the heart of the Mui Ne Bay.We offer bus services from Ho Chi Minh City to and from Dynasty Resort (Mui Ne) daily. Special pick-up from your hotel in Ho Chi Minh City, or direct from the airport can be arranged.In your visit to Mui Ne, you should not miss the famous landmarks and local attractions, such as the red sand dunes, the lotus lake in desert and the Poshanu - Cambodian Tower. You can either join our small tour group, or rent a motorcycle and plan your own trips.
Facilities and Services
• All luxurious rooms, with ocean view.
• Jointed rooms for family and wedding party.
• Stone paved swimming pool and large children's pool.
• Outdoor Jacuzzi pool.
• Pool side bar and breakfast area.
• Coconut trees covered private sand beach.
• Tropical garden with gentle springs and bridges.
• Restaurant to serve Vietnam style seafood and Western meal.
• Business center with internet.
• VIP dinning and private Karaoke room.
• Beach front BBQ courtyard.
• Foot massage and facial services.
• Tours to local attractions.
• Golf packages to off site "Ocean Dunes Golf Club".
• Golf club rental.
• Daily bus service between Ho Chi Minh City and Mui Ne.Accommodations
Dynasty Resort is built in a Vietnamese courtyard style. The unique design provides all rooms with blended views of our swimming pools, tropical garden, private creamy sand beach and the blue ocean. All rooms are equipped with expected international standard modern comforts, and decorated with design furniture.
Booking Office:
313 Pham Ngu Lao Street,
Dist. 1, HCMC. , Vietnam.
Tel: 84.8.9206436
Fax: 84.8.9206438
www.dynastyresorts.com
sales@dynastyresorts.comDYNASTY RESORT
140A Nguyen Dinh Chieu Street,
Ham Tien, Phan Thiet, Vietnam.
Tel: 84.62.847816
Fax: 84.62.847966