Tay Son District in the central province of Binh Dinh is the hometown of Emperor Quang Trung, a hero of Viet Nam in the 18th century.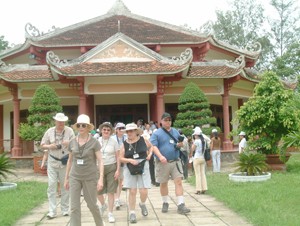 Foreign tourists visit the Quang Trung Museum
The Quang Trung Museum in Tay Son, which is about 45 km from Quy Nhon City, preserves vestiges of the Emperor's life and the 18th century Tay Son Uprising. The museum was built in 1979 in Binh Thanh Commune, where three brothers Nguyen Nhac, Nguyen Hue (who later became the king) and Nguyen Lu grew up. Besides the museum is the worshiping house of the Nguyen brothers.
At the museum, visitors will listen to fighting drums and watch Binh Dinh martial arts in a performance in about half an hour. The ancestors of many of the performers were warriors of Nguyen Hue's army, who defeated the Chinese invaders Manchu in Thang Long (now Ha Noi) in a surprise attack during the Lunar New Year festival in 1789 and forced them to retreat back to China.
Just about 15 minutes by bus from the museum is Ham Ho, a famous tourist site in the province. Ham Ho is actually the name of a beautiful spring there. The spring runs a few kilometers through a shallow, bumpy ravine with high, rocky walls on either side.
Then, it spills into a lake which resembles a big rocky cellar. When the water flows into that cellar, it produces a sound that is similar to a yell. Ham Ho is also known as 'flying fish spring", for the thousands of fish swimming upstream back to their birthplace.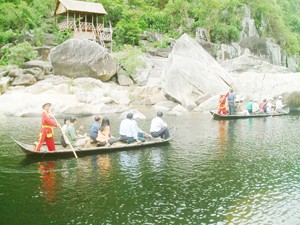 Visitors go sightseeing in Ham Ho
The whole area is an ideal place for tourists to enjoy nature's beauty and fresh air. Many valuable trees grow in the forests around Ham Ho and one of the most interesting times to visit is when the Loc Vung ornamental trees blossom.
There are well designed stilt houses on the banks of the spring from which tourists can enjoy the natural beauty of the area, and the nature-oriented park makes a deep impression on visitors, especially the bridges and the natural stone baths.
Adventurers can kayak on the spring, or take a ride in a small canoe with two local guides dressed in ancient warriors' costumes.
What tourists should give it a try before saying goodbye to Ham Ho are the dishes prepared from local chickens.
Book a tour to Tay Son and Ham Ho with:
Saigon Quy Nhon Hotel, 24 Nguyen Hue Street, Quy Nhon City, Binh Dinh Province, tel: 84-56- 820100, email: sales@saigonquynhonhotel.com.vn
Saigontourist Travel Service: 49 Le Thanh Ton Street, Dist. 1, HCMC, tel: 84-8- 8279 279, email: info@saigontourist.net
Fiditour: 129 Nguyen Hue Street, Dist. 1, HCMC, tel: 84-8-9141414, email: fiditour@hcm.vnn.vn
Global Holidays: 106 Nguyen Hue Street, Dist. 1, HCMC, tel: 84-8-8228453, www.globalholidays.com.vn