Travelers are having a chance to explore the typical, daily lives of Ha Noi's citizens through an event called "Thang Long- Ha Noi Craft Village & Craft Street Tourism Week."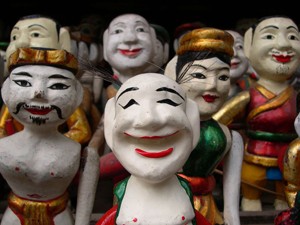 Water puppets in the Old Quarter of Ha Noi
As the capital of Viet Nam for almost a thousand years, Ha Noi is considered to be the cultural center of Viet Nam, where every dynasty has left behind an imprint. Even though some relics did not survive through wars and time, the city still has many interesting cultural and historic monuments for visitors and residents alike. Historians liken the life-giving Red River, with its banks crowded with gren rice paddies and farms, to the Tigris and Euphrates Rivers, a true cradle of civilization. The city boasts a millenium of history, including traditional craft villages which have preserved their culture against the passing of time.
The tourism week is being held to celebrate the 33rd anniversary of Viet Nam's reunification (April 30) and to celebrate Labor Day (May 1). There will be a display of 1,000 candles symbolizing the 1,000 years of Thang Long, lit up to mark the opening ceremony on April 29.
Week of Festivity
Stalls featuring pottery villages like Bat Trang and Chu Dau, Van Phuc silk village, and Dong Ho paintings will showcase handicrafts. The "Thang Long Magnanimity Festival" will open with a parade of artisans, thousands of torches and a drumming festival through the streets and around the citadel, and the festival will feature tours of the Hong River and Bat Trang craft village by the Phu Le Gia Company, Dao Thuc water puppetry, hat xam (songs of a strolling, blind musician) and cheo (reformed opera), culinary and folk games, to support the craft villages. Finally, a contest for artisans to generate products with the theme "The Imprint of Thang Long – Ha Noi" will be held.
Relive Ancient Ha Noi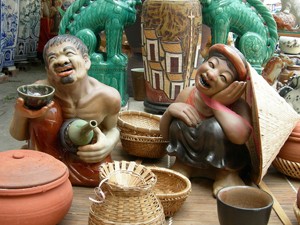 Ceramic statues of Chi Pheo and Thi No, characters in the novel "Chi Pheo" by Nam Cao, made of Bat Trang porcelain

The old quarter, near Hoan Kiem Lake, has the original street layout and architecture of old Ha Noi. At the beginning of the 20th century the city consisted of only about 36 streets, most of which are now part of the old quarter. Each street was comprised of merchants and households specialized in particular trades, such as silk traders and jewelers. The street names nowadays reflect these specializations, although few of them remain exclusively focused on their original commerce. The area is famous for its small artisan and merchant operations, including a plenitude of silk shops. Local culinary specialties as well as several clubs and bars can also be found here. A night market (near Dong Xuan market) in the heart of the district opens for business every Friday, Saturday and Sunday evening with a variety of clothing, souvenirs and food.
According to local officials, the event will be held by the Association of Vietnamese Craft Villages in cooperation with the Center for Preserving Co Loa and Ha Noi Citadels, from April 27 to May 4 at Ha Noi's Ancient Citadel, 12 Nguyen Tri Phuong Street, Ba Dinh District.
The event will honor the village and street craftspeople and artisans, and promote Vietnamese tourism. The Thang Long Ancient Citadel is recognized as a national heritage.
A replica of a traditional village will be built for the occasion, with a village gate made of Bat Trang bricks, ancient Vietnamese houses and bamboo houses of the northern delta region, including an ancient alter and enactment of a ceremony of ancestor worship. The exhibition will be decorated with traditional crafts, such as kites, decorative multicolored lanterns, palm-leaf conical hats, Ha Dong silk and Bat Trang bricks. The cultural area of 36 original streets in Ha Noi will be host to a handicraft and fine arts display.