Villagers in Thuong Tin District of Ha Tay Province have created hand-broidered pictures for hundreds of years. Their products have gone out of their village and reached the world market.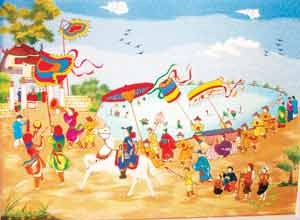 An embroidery by Quat Dong villagers depicts a mandarin returning to his village to pay thanks to ancestors
From Ha Noi, National Highway 1A runs toward Ha Tay Province and after more than 20 kilometers is Quat Dong Village of Thuong Tin. Old houses appear together with aged roofs and gates. Almost houses have one or some embroidery frames.
Past
Old villagers say embroidery started in the village as early as in the 17th century. The first founder was Bui Quoc Khai, who was then renamed Le Cong Hanh before he held a very high ranking under the Le Dynasty. One time he acted as an envoy to lead a Vietnamese delegation to Beijing, China, which was then ruled by the Ming Dynasty. The Chinese Emperor invited him to a lofty gazebo to read Buddhist books. To test his intelligence, the king had his soldiers to take away the ladder attached to the gazebo while the envoy was reading. When he wanted to get down, seeing no ladder, Le Cong Hanh looked around and grabbed a big sunshade there to jump down as a parachute jumper.
But he was also enchanted by the embroidery works on the parasol. During his trip, he managed to learn embroidery from Chinese artisans and he made it. Back to his village, he transferred the job to residents in his hometown, which now includes Quat Dong and Thang Loi communes in Thuong Tin District. They started the business and improved their skills. They made embroideries on many things including clothes and hats of officials, flags of many kinds, parasols, and decorations, and many traders brought their products to many parts of the nation. The area became famous with its hand-made embroideries, and many local farmers have become skilled embroiderers.
Present
In recent years the villagers have diversified their products by creating hand-embroidered pictures, using needles, threads and their imagination to make picturesque images.
The artisans have to go through many steps to finish a work. Old man Pham Viet Dinh, 76, with white beard and hair, says the first step is to draw a picture with a pencil on the piece of fabric. Next, they use a needle to create the borders for the images. Then they use powders – black and white to make some contrast with the fabric – to apply on the cloth to some details for the images. The last stage is the most important, also the hardest job – the workers start embroidering. How the picture looks like depends much on their skills from their hands, and imagination and creation ability from the head.
The devices in the businesses are just the embroidery frames, needles and threads. The frames can be made from wood or metal. The most popular frames in the village are wooden and workers often use the 1.1 meter-size frame than bigger ones, and two artisans can work on one frame. It's often like this.
The cloth must be stretched well on the frame, which should be laid conveniently for the workers. Quite a few efforts are needed to finish a picture. As the threads are small and a picture often includes various colors, details and images, the artisans have to spend hours to finish one.
Making a living, a career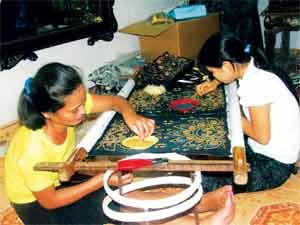 Quat Dong workers embroider a picture on a wooden frame
More than 90% of the local households are involved in the business but not many families are rich. The richer families are those who have pursued the career for quite a long time and accumulated enough money to set up a small factory. Pay for the real embroiders is not high. Old man Dinh says a normal embroider earns VND20,000-35,000 (US$1.25-2.2) for eight hours of work, and a highly skilled worker can get VND80,000 ($5).
"An advantage here is the flexible time. If you are busy during the daytime, you can embroider at night. Moreover, children can help their parents in the job," says the aged man.
Embroidering here has been transferred from generation to generation. When a child grows up, he or she takes the job for granted. Some later become an employer while others turn to be employees. Some have become famous artisans who have created pictures used as presents from Viet Nam for Heads of States of other countries. Mr. Thai Van Bon is one of them thanks to his hand-embroidered pictures of late President Ho Chi Minh or a Thai King. Behind the villagers' success are their great efforts and devotion to the career.
However, the current generation is luckier than their ancestors. They know how to apply graphic design to create more beautiful picture with less time spent. Aged man Dinh adds that they are more creative in diversifying products. "For example, they can attach decoration objects on a picture to make it different."