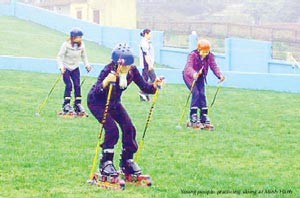 Young people practicing skiing at Minh Hanh.
A grass skiing entertainment complex was built in Hoa Lac in the Hoa Binh Province, about 30 kilometers outside of Ha Noi. Built by a privately owned Vietnamese company, and named Minh-Hanh, the facility opened on February 10, 2006. Backed by over VND 10 billion in investment capital, this facility is the first of its kind in Viet Nam, and the Vietnamese seem enthusiastic to give it a try. Before now, skiing of any kind was something unavailable to those unable to travel far outside the country for such an experience.
Originally invented as a training method for skiers in the off-season, grass skiing entails skiing on grassy mountain slopes. Short skis are attached to the skier's boots that have rolling treads, much like those on tanks, or wheels on the base. Grass skiing is ideal for those who want to practice their skiing skills during the off-season, or for people living in countries where snow is not a regular occurrence, such as in Viet Nam.
Mr. Minh, the owner of Minh-Hanh, said that all of the equipment for this entertainment area was imported from Shenzhen, China. In fact, Mr. Minh hired Chinese experts to design and construct Minh-Hanh's grass skiing after facilities they had already built in China.
At a very reasonable price of VND 5,000 per trip, grass skiing is an adventure that anyone can afford to try. Don't miss the chance to give the downhill grass slopes a try.