Sue Gaunt and her husband from Birmingham, England are visiting Hoi An on the central coast after spending the early half of last week in Saigon. It's their second trip to Vietnam, the first being in December.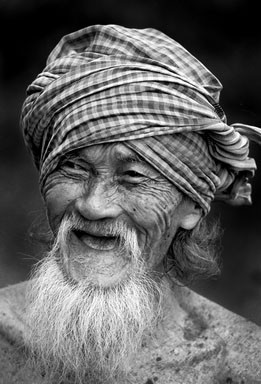 As the Vietnamese say "mot nu cuoi bang muoi thang thuoc bo" (one smile is worth ten doses of tonics)
Returning to Vietnam after less than six months should be a record. Asked why they had come back so soon, Sue explained, "Because we love the friendliness here".
Very simple in a way but astonishing nonetheless. We often talk about Vietnam's advantages tourism-wise but it seems the words "friendliness" and "hospitality" are seldom mentioned.
The truth is that success does not always come from expensive things. Hospitality cannot be bought with money but only comes from the year-round tradition of the Vietnamese.
Most representative of the Vietnamese open heart is the smile. Nowhere on earth can you catch the smiles on people's faces as easily as in Vietnam. They smile in greeting, they even smile when they are in difficulty or suffering. "The Vietnamese smile at everything", commented the famous scholar Nguyen Van Vinh many decades ago.
Open-heartedness is another sign of the friendliness here. The immediate presence of many people as soon as something goes wrong indicates a ready willingness to help. One hand reaches out, then another followed by more and more. Later, when what could be done has been done, the unknown good guys and gals melt away as easily as they came.
Unnamed heroes are around us since in every heart seemingly exists the blood and spirit of Nguyen Dinh Chieu's Luc van Tien, a literary character who devoted his life to fighting injustice and standing up for the downtrodden.
Friendliness and hospitality can be seen across the country. It might be a full smile or a faint nod, or a gesture expressing sympathy and reliance. Vietnam's mandarin road stretches for thousands of miles and those who are traveling or have traveled across the country know well the truth of the saying "A friend in need is a friend indeed".
Take one recent incident. It was raining, everyone was stuck at the traffic lights, and the fumes of gasoline were overwhelming. To their surprise, the miserable motorists, cyclists and pedestrians saw a man without a raincoat pushing an old broken moped on whose front seat was a smiling kid wearing a snug raincoat. "One, two, three, three, two, one!" the man counted aloud to amuse his child. The rain continued to bucket down but everyone felt happy. From inside a tourist bus caught in the jam, even the passengers felt the common thread of humanity binding them to this land.
In the late 1980s, when the number of foreign tourists was only half a million a year, one of the slogans for this S-shaped country seen on foreign travel agents' brochures was "Visit Vietnam, one of the rare unspoiled lands". The charm of Vietnam then and still now is tradition (plus the beautiful scenery).
These days Vietnam has plenty of five-star hotels, resorts and golf courses catering to the well-heeled tourist from abroad, but to many visitors it's the traditions that matter. Vietnamese simplicity and hospitality are what draw foreigners like Sue Gaunt back for a second time, and perhaps a third and fourth time after that, not fancy accommodation and the like. After all, you can get that anywhere.
In a nutshell, the Vietnamese people advertise their land simply by being their warm and hospitable selves.