The administrations of Thua Thien-Hue Province and Hue City held a ceremony on June 3, the opening day of the 2008 Hue Festival, to announce a Prime Minister decision to approve a project to turn Hue into Viet Nam's festival city.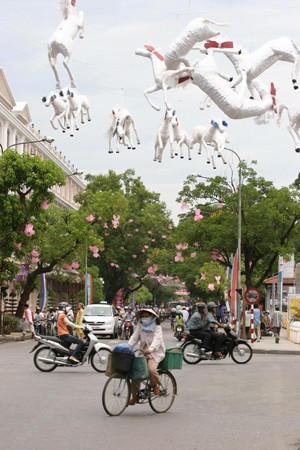 A corner in Hue city (Photo: AFP)
Addressing the ceremony, Nguyen Kim Dung, Chairman of the Hue People's Council affirmed that the city would continue to preserve and promote the relics of the former imperial city of Hue and Nha Nhac (Royal Court Music), which UNESCO recognized as world heritage.
The project's overall aim is to build Hue into a national-level city featuring typical characteristics of Hue and Viet Nam.
The city hosted the 2008 Hue Festival from June 3 to 11 with the theme being "Cultural Heritage with Integration and Development." This is a cultural and tourism event imbued with traditional cultural identities, aiming to expand international exchange and boost socio-economic development, especially tourism.
This is the first time the Hue Festival attracted the participation of many traditional and contemporary arts troupes from more than 20 countries in Asia, Africa, Latin America and Europe with a total of 77 performances including singing, dancing, music, installation art and street art or graffiti.