The fifth International Sculpture Camp being held in the central Thua Thien-Hue province has so far attracted 25 sculptors from 13 countries, including the UK, India, Austria, Belgium, Germany, the US, Japan, France, China, and Australia.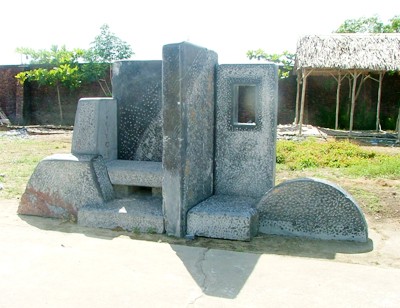 An artwork by a South Korean sculptor at the 4th Sculpture Camp in 2006
Marble stone is taken from northern Thai Nguyen province to Thuan An beach, 10km from Hue where the sculptors design their works at the Abalone Resort & Spa in Phu Van district in a friendly atmosphere.
Their works of art, which are impressive and filled with friendship and love for Hue, will be presented as special gifts to the 2008 Hue Festival, slated for June 3-11.
This biennial camp will conclude on June 5.
Five camps were previously held in Hue with local and foreign sculptors having left hundreds of artworks in the city, which visitors can see along the Huong (Perfume) River's banks.