Nine-year-old Israeli piano prodigy Tom Zalmanov will arrive for a performance at the HCM City Conservatory of Music on September 6.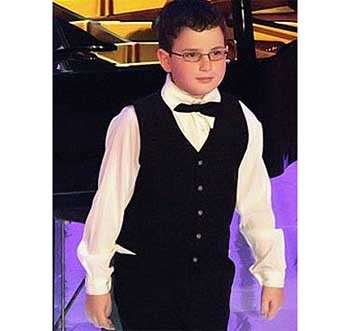 Piano prodigy Tom Zalmanov
Under the baton of conductor Do Kien Cuong, Tom will play masterpieces by Mozart, Beethoven, Schubert, and others.

He will be accompanied by Vietnamese cellist Vu Thanh Hao, pianist Nguyen Quynh Mai Trang, violinist Nguyen Truc Thuyen, viola player Tran Thi Hoang Yen, and the HCM City Conservatory of Music orchestra.

Zalmanov was introduced to the piano at the age of five and began to perform at six.
At this tender age, he has already taken part in many music contests and won several prizes, including the special prize at the Rotary contest in Moscow last year, second prize at the Pnina Zaltman contest for pianists under 13 in Israel in 2006, and the second prize at The Next Big Thing, an Israeli reality TV show.
When he was seven, he got a two-year scholarship from the USA-Israel Culture Foundation that is normally awarded only to top students aged 12 and above.

In January 2007 he went on tour for the first time to the Netherlands and Denmark. On his second tour now, he performed in Bangkok in August and is now scheduled to come to HCMC.

The concert is organized by the HCMC Conservatory of Music and the Embassy of Israel in Viet Nam.