Plastic pipes, neon tubes, aluminum doors, motorbike exhaust pipes – all these are grist for the mill of musical wizard Mai Dinh Toi as he grinds out one whacky new instrument after another.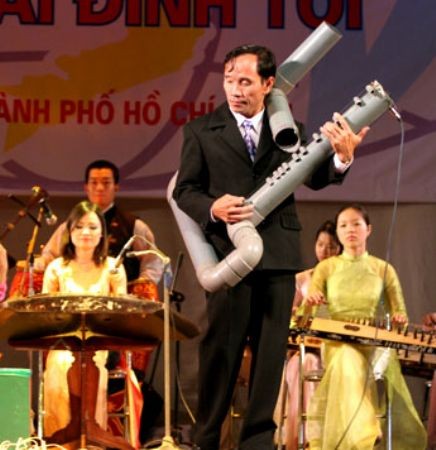 Pipedreams (Photos: Thanh Dat)
He had a simple aim in life – to be recognized as a musician.
But 10 years after he graduated from the Traditional Music Faculty in string and
woodwind instruments from the Ha Noi Conservatoire, Mai Dinh Toi realized that it was not so simple.
He had certainly made his mark as a sao (flute) and a dan nguyet (moon-shaped two-string guitar) player, and had just won the silver medal at the national instrumentalists' competition, playing the flute. But he – and the audience - was mesmerized by what the gold medalist had done.
The year was 1992, and Toi remembers the day clearly. "Day and night, I was haunted by what he did, playing the drums with three drumsticks. His innovative style inspired me to think that to create a long-lasting impression on the audience, I needed to do something that had not traditionally been done by conventional musicians before."
Toi has not stopped breaking tradition since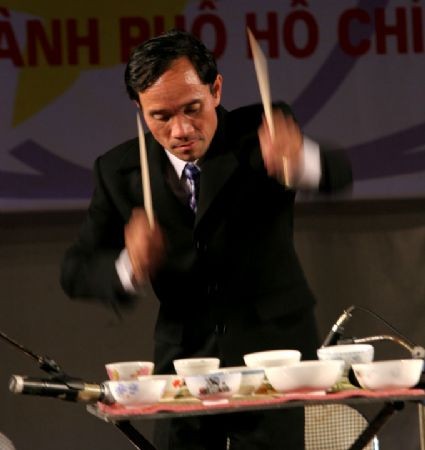 Water sports: Toi plays with water to produce a flute and a xylophone
First, he came up with the idea of playing flutes and drums simultaneously. It was seven years before he achieved the proficiency he sought, attaching drumsticks to his shoes and providing rhythm to the melodies he played on the flute.
The standing ovation he got from the audience spurred him to new feats. He began practicing playing the flute through one nostril, and then, playing two with two nostrils in harmony with each other.
From playing music, Toi extended his creativity by devising instruments from all kinds of things found at home. His collection includes two kinds of bottle harmonica, a water-pipe flute, an aluminum-door guitar, a dan nhi (two-chord zither) made of neon lamps, a bowl glockenspiel, a motorbike dan bau (monochord) and a guitar made of a motorbike exhaust pipe.
Although most of Toi's self-made musical instruments look simple, they demonstrate his mastery of musical theory, apart from his ingenuity and resourcefulness. To create the bottle harmonica, 11 glass bottles are tied together and different quantities of water poured in each, generating distinctive notes when air is blown or sucked through it.
His latest project is a huge, sophisticated musical instrument ensemble built with 1500 plastic pipes and 1200 joints of various shapes and sizes. The contraption is 7m long, 5,5m wide and 6m high, and serves as a part of the stage prop. It has the novelty of having many instruments actually built into its structure, with the pipes serving as their sound boxes.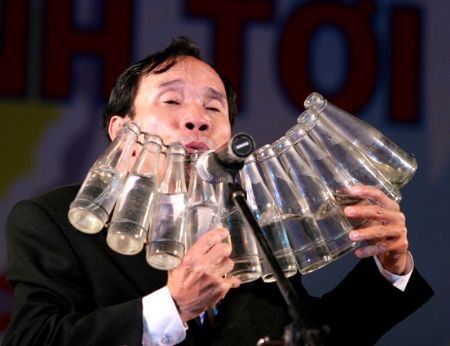 Hitting the bottle
There are various traditional string instruments such as the dan tranh (16-stringed zither), the monochord, the two-chord zither, and other conventional ones such as the guitar, drums, flutes and k'long put (a woodwind instrument made of bamboo tubes played by ethnic minorities in Central Highland).
In a performance, up to ten musicians play the instruments simultaneously, and the network of pipes helps blend the various sounds into a unique auditory experience.
"I had outlined the design of this musical instrument ensemble in my mind for years, but couldn't do much with it. This unique work wouldn't have been brought into the world if Dat Hoa, a plastic company in HCM City, had not agreed to provide me with the volume of plastic pipes needed.
When first introduced to the public in Dam Sen Park on August 17, it not only received a tremendous ovation from the audience but was also recognized as a Vietnamese record."
Toi says music is his life. Apart from the string and woodwind instruments he learnt at school, he has taught himself to play around 40 other instruments, both traditional and conventional.
It is this willingness to learn anew and persist in following his imagination that has helped him successfully create unique instruments that only he can play skillfully, presenting different music genres in a fascinating performance.
Apart from holding three Vietnamese records, two in 2005 and the other in 2008, Toi has won several domestic and foreign prizes and has made it to the Guinness Book of World Record.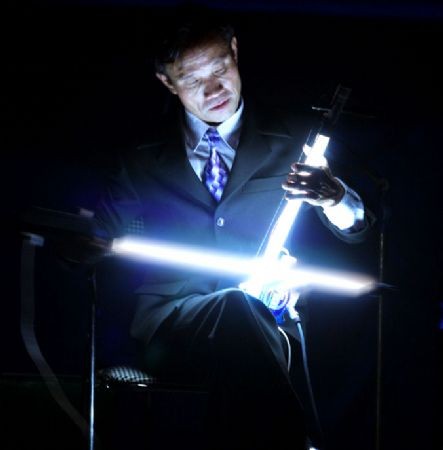 Glowing tribute
Inspired as his creations are, Toi has to spend considerable time and effort in experimenting with different objects to determine their suitability. He once tried to make a musical instrument from ceramic pots which he had to have transported in a lorry from as Binh Duong Province, but his efforts were in vain.
Over the last ten years, Toi has performed in over 30 countries around the world and the audience reception keeps his "whacky" motivations going.
"People are always surprised and fascinated by my performance style and by my whacky self-made instruments. The rapturous applause from the audiences after each performance is the most rewarding feeling."
One of the future plans the indefatigable Toi has lined up is the creation of musical instruments from military materials.
That would be an alchemist's delight: eternal music from instruments of death.