It might come as a surprise that Huynh Minh Hiep, who holds the 2005 VietBook record (Viet Nam's Guinness records organization) as the most prolific money collector boasting currencies from over 200 countries is a good looking man of only 36 years old currently living in Ho Chi Minh City.
Hiep holds up two 500-year-old coins at a Thai coin shop
The walls of Hiep's small, four-story house in a quiet neighborhood in Binh Thanh District are decorated with elegant frames holding valuable ancient coins. Sitting on the shelves are jars, boxes and trays, also full of coins. He also has a collection of jars containing coins buried with dead people in ancient times, rusted with age and encrusted with the soil in which they had lain.
Hiep began to collect money since 1993. Hiep said, "Between 1993 and 2006, I worked as a bartender for the duty-free shop at Tan Son Nhat Airport, befriending tourists by showing them simple conjuring tricks. When I told them of my collecting hobby, they would give me coins from their country to add to my collection."
To become a professional money collector, Hiep had to read a lot of books to learn what factors affect the value of each coin or note, such as their condition, how many were minted or printed, and how many are in circulation.
"The study of money is the study of the history of civilization itself, as the debut of each coin or note is often linked with a certain dynasty or with a significant historical period of a country", he told Sai Gon Guide.
Viet Nam's Historical Tender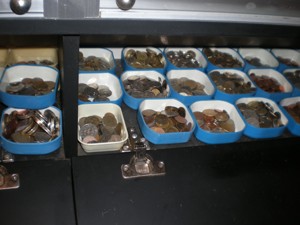 A wide variety of coins, both ancient and modern, categorized in boxes in Hiep's house
Hiep's oldest Vietnamese coins are Thai Binh Hung Bao minted in 968 during the Dinh dynasty. He also has Dai Dinh Thong Bao minted during the reign of Ly Anh Tong (1138-1178) and Quang Trung Thong Bao circulated during King Quang Trung's reign (1753-1792).
As for Vietnamese notes during the period beginning at the start of the 20th century to present, his collection contains nearly 500 pieces of legal tender over the ages.
Particularly valuable are his King Thanh Thai notes (notes printed with the vignette of King Thanh Thai) issued in 1901, 1917, and 1920 as well as the five-dong peacock bills issued in 1923.
Hiep also owns a few of the first Indochine notes – 20-dong bills that were printed with the picture of Marianne, a national emblem of the French Republic, as she holds an apple in her hand and 100-urn bills. These notes, says Hiep, are of such large denominations that average folks in those days could never dream of touching one. In his coin collection, Hiep has managed to acquire the first Indochine coins issued between 1985 and 1929. They boast the biggest diameter of all the coins ever circulated in Viet Nam.
Also included in Hiep's money collection are the first bills of the Democracy and Republic of Viet Nam. During the initial war years against the French, the birth of the North Viet Nam regime saw the release of bills printed on low-quality paper bearing only the red government seal but no state bank authorization as no such entity existed at the time. When the State Bank came into existence in 1951, it released a set of eight Uncle Ho bills which were relatively small notes, printed with sharp artwork and vibrant colors on higher quality paper.
Hiep also owns a few of the stamps used as money currencies in certain free zone areas during the war against the US when people employed such forms of coupons for food and other necessities.
The rarest notes in Hiep's collection are probably the 5,000 dong leopard notes and 1,000 dong buffalo notes printed by the South Viet Nam regime just before its collapse in 1975. These notes were never put into circulation and were destroyed after 1975, with only a few finding their way into the hands of collectors. In a way, they symbolize the victory of the Socialist Republic regime and mark the unity of the country, thus holding important historical significance.
International Value
Hiep's collection from over 200 countries is like a miniature world map, with each note a tiny work of art. Each country's history, culture, people and geography are creatively represented by the myriad designs, shapes, sizes, artwork, colors, paper quality, ink quality and security features of the notes.
Standing out from his collection of foreign currencies are the coins of Middle Eastern countries like the Iraqi notes printed with the vignette of Saddam Hussein issued in 2002, just before the Iraq war broke out, and uncut notes printed with the vignette of the King of Thailand issued in 2007 to mark the 80th anniversary of his birth.
Despite his current workload as a supervisor of the Club Royale of the Renaissance Riverside, a five-star hotel in HCMC, Hiep visits foreign countries every now and then to hunt for more rare coins and notes.
On the occasion of the 30th anniversary of the liberation of South Viet Nam, September 23, 2005, Hiep donated to the HCMC Southern Museum a valuable money collection consisting of nearly 300 notes from over 100 countries around the world and received a certificate from the HCMC People's Committee in return for his contribution to the conservation of world and national heritage and cultural values.