"Classical Vespa is an addicting substance. The more you use, the more addicted. Similarly, the others include Lambretta, Mobylette, and Velosolex." I read this on an online forum for lovers of classical bikes at www.ttvnol.com.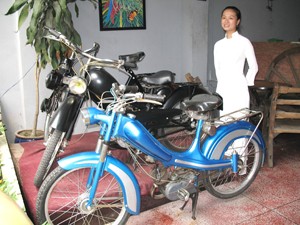 Retro bikes on display at Café 32 on Mac Dinh Chi Street, HCMC (Photo: Van Thinh)
The author of the forum is a local enthusiast named Thang. He says "If one owns this kind of vehicle, he or she should be proud and remember that they have possession of a piece of the past… something that many other people dream of."
However, it's not all easy trails with the old Italians and French, they are up to 50 years old or so, and like people in their fifties require some pampering from time to time. They are generally less convenient than the newer models and are prone to problems such as difficult start-ups, frequent breakdowns and stalled engine. Enthusiasts say its all part of the charm and the little acts of maintenance love they dote upon them make the relationship that much more special.
Here in Ho Chi Minh City, quite a few cafes and restaurants display retro motorcycles. Over there, the design also looks old, decorated with the old bikes that were left long forgotten in storage bins or family garages, and with their parts. The cafes and restaurants are the gathering points for lovers of classical bikes, and to some extent, are becoming a cultural slice for travelers to explore.
Café 602 on Quang Trung Street, Go Vap District is a club for coffee addict and classical bike lovers. At that place, things guests often do are ordering a drink, looking at the displayed bikes and chatting with those having the same taste for classical motorcycles. The café owner says his initial intention was to display as many old and antique items, but he changed his mind to keep classical bikes as the mainstream. He has spent lots of money turning the vehicles into "live decorations", as he says, to attract clients. He lets enthusiasts leave their retro bikes of various kinds in his café, with some basic information attached, such as specification, identity and the restoration time, so that those who want to buy can know some background.
You want a classic photo? It's easy at Café 602. You can sit on a bike, wear an old-style hat, put on an old-fashioned bag and have a picture taken.
Where can you see old and fairly rare motorcycles? It is Café BT-Boulevard in Binh Trieu Ward, Thu Duc District. The owner says he has collected such retro bikes as 1958 Triumph TWN, Jawa, Mobylette and Lambretta from all parts of Viet Nam. He used lots of raw materials for the coffee shop. A separate platform built with broken bricks is the "stage" for the antique bikes. He bought the Triumph TWN in 1994 to travel between home and workplaces. Then, he continued to fall in love with the Jawa due to its stylish design and strong engine. Surprisingly, he himself can repair the old vehicles, and he maintains them periodically and carefully.
Enthusiasts also pick Café 31 and Café AQ on Mac Dinh Chi Street in District 1 as their offline meeting places. But on Saturdays and Sundays, they gather along Han Thuyen Street beside the Notre Dame Cathedral, also in District 1, to display their "belongings". Coffee here is just about VND5,000-6,000 per glass – a black liquid with coffee flavor rather than real coffee – but they don't care much. They are just crazy about looking at the others' classical bikes and chatting. This "showroom" is very crowded and colorful every weekend.
What seems to be behind the increased popularity of these old bikes? A possible answer appears to be making a fashion statement.
Not only Vietnamese but also foreigners have joined the game. Foreigners are often fond of Italian manufactured Vespa. In HCMC, Vespa repair shops can be found in many districts, and one of the most reliable repair shops in is Saigon Scooter Center on Cuu Long Street in Tan Binh District, run by Englishman Patrick Joynt.
In the city, a famous classical bike lover is Mr. Nguyen Quoc Ky, CEO of Viettravel, one of the country's largest and most successful tourism companies. Currently he is also the acting head of the Vietnam National Administration of Tourism. His house is home to a rare collection of French manufactured motorcycles, including six Mobylette and four Velosolex. Mr. Ky, who often rides a Mobylette to the Viettravel headquarters on Pasteur Street in District 3, says although there is very little commercial value in being such a collector, there is a great deal of cultural value in restoring something from the past.

In Ha Noi, a very well-known café with old-style bikes is Xe Cổ Quán, translating as Old Bike Café. Owner Tran Quang Vinh, fascinated by old-fashioned motorcycles since he was a child, has devoted much of his time to what has moved from a hobby and into a passion. By his estimation, the 48-year-old has so far restored almost 50 classical motorbikes.
His café in the capital serves as a hub where collectors from all walks of life meet to drink coffee, discuss, chat, buy and sell everything related to retro motorbikes. He plans to open what he describes as a bike "museum" on the outskirts of Ha Noi to show case his large collection will be showcased. He says he believes the trend of using retro bikes will continue to gain in popularity as more people are becoming tired of the sound and pace of the modern world.