A photo exhibit entitled "Seven stories" featuring pictures by six Vietnamese and American photographers is being held to celebrate the Viet Nam Revolutionary Journalism Day last Saturday.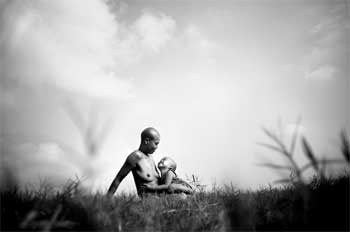 A photo by Justin Maxon
The stories are "Companionship in Poverty" by Justin Maxon, "New Homes for the Aged in Ha Noi" by Na Son, "A Letter to Daddy by Trong Tung, "Little Children on the Big River" by Lam Khanh, "Local Steel-Makers in Bac Ninh" by Trong Chinh, "Legacy of Horror of Agent Orange Children in Ba Vi, Ha Tay" by Justin Mott, and "The Can Tho Bridge Collapse" by Na Son.
The seven photo essays describe the simple human beauty of contemporary life in Viet Nam. The photojournalists have been published in magazines and awarded prestigious prizes. One of the collections, "Companionship in Poverty" by Justin Maxon, won first prize for a single daily life photo in the World Press Photo Contest 2007.
The exhibit will be shown from June 20 to 29 at Maison des Arts, 31A Van Mieu Street in Ha Noi.