Pearl of Asia Development Corp, from Trustee Suisse Group has made out a plan to build a resort complex in the northwestern strip of Phu Quoc Island worth about 6 billion Euros occupying 3,200 ha of land.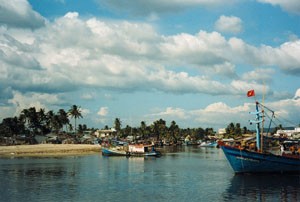 Duong Dong seaport in Phu Quoc island
The project has been approved by the Government's Office and the People's Committee of Kien Giang Province, and will contain a holiday and entertainment area "similar to a village".
There you can find first-class hotels, stately homes, sporting facilities, casino, a hall suitable for holding concerts, operas, ballet, musicals, and (music and film) awards, a marina for sports yachts and mega yachts, a health and medical centre, and beautiful parks and gardens. The Pearl of Asia will provide an entirely new way of combining pleasure and business activities.
Le Minh Hoang, director of Kien Giang's Department of Culture, Sport and Tourism, said the province had cooperated with the Swiss investors and allowed them to draw up a detailed scheme for the project. Phu Quoc island now has 347 projects with total registered investment capital of more than VND100,000 billion, covering an area of over 14,300 hectares.
Around 14 projects of them have been licensed with the aim of building guest houses and entertainment sites. Detailed planning work on other functional sections has also been made.
This project will be part of the Government's plan to develop Phu Quoc into a tourist island that will attract 2 to 3 million visitors per year by 2020.
Last month, Australia's ABC News selected Bai Dai (Long Beach) on Phu Quoc island off the southern province of Kien Giang as one of the five most beautiful "hidden beaches" in the world.
Only one hour of flight from HCM City, Phu Quoc is an archipelago located in the Gulf of Thailand that consists of 22 islands of primitive beauty and has a coastline of some 150 kilometers.
It houses one of the national parks in the country with thousands of tropical plants and rich fauna. There are crabs, prawns, squid and dozens kinds of birds, and 150 kinds of animals like monkeys, goats. It is a good destination for tourists who love to discover tropical forests and primitive sea sand. Phu Quoc is ideal for developing eco tourism.