Forty days before the contest's climax on July 14, those responsible for Miss Universe 2008 are making sure everything is ready for the big event. There is much to do before the first major beauty contest staged in Viet Nam can take place.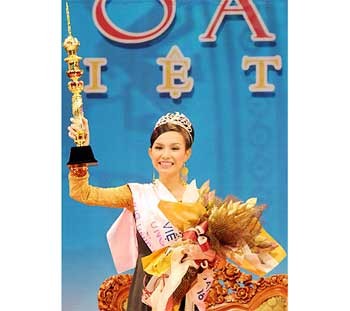 Miss Viet Nam Universe 2008 Nguyen Thuy Lam
The country will welcome more than 80 contestants from all over the world for the contest on June 29. The first young woman will set foot in Ho Chi Minh City on June 17.
This is the second time that Miss Universe will take place in a theater built for the occasion. The first time was in Panama in 2003. Constructor James Dunne, who took responsibility for the work in Panama, is building the hall for Miss Universe 2008 event in Viet Nam.

He is surprised at Vietnamese counterparts and workers who have made a good impression on him through their ability and work day and night to meet deadlines.
The 7,500-seat performing palace, Viet Nam's biggest yet, has a 1,500 - square meter stage located in the Song Lo tourist area. It is ten minutes from the heart of the city of Nha Trang and is around 95 percent finished.
Other structures include a media center covering on an area of nearly 2,000 square meters which will equipped more than 300 computers for over 1,000 reporters. The Diamond Bay five-star resort has more than 300 rooms for contestants.
Representing the host country is pop singer and television actress Nguyen Thuy Lam. She was crowned Miss Viet Nam Universe on May 31 at Nha Trang's Vinpearl Land. The 1.70m tall beauty speaks fluent English and German. She also holds the titles Miss Talent, Miss Vote and Miss Best Interview awards.
The crown for Miss Universe 2008 will be designed and produced by Viet Nam's Phu Nhuan Jewelry Company, at a cost of US$250,000. The Hoan Vu Joint Stock Company will act as event organizer and contractor, has spent US$15 million on the competition.