Quang Tri Province on April 30 opened the Hien Luong-Ben Hai war relics area. The historical vestiges quarter is located on both sides of the Ben Hai River, which used to be the provisional border between northern and southern Viet Nam during the war.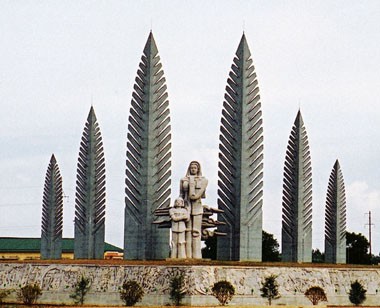 The Hien Luong Bridge
The area is comprised of four main parts: the Northern Gate of Hien Luong Bridge, National Flag Post, Aspirations for Reunification Monument, and the Exhibition House.
Also on April 30, Quang Tri organized the National Unification festival day at the Hien Luong Bridge. The Quang Tri Museum was inaugurated on the occasion.
The museum is a conspicuous and modern building that exhibits more than 10,000 historical relics and scientific documents in 16 art complexes, both indoor and outdoor.
Covering more than 4,000 sq. meters, the largest museum in central Viet Nam introduces the history of nature and society of Quang Tri Province from past to present, including the Viet Nam War period.