The four-star Ramana Saigon Hotel is serving Muslim specialties at its Café Singapore from September 1 to 30 during the month of Ramadan, the Islamic month of fasting.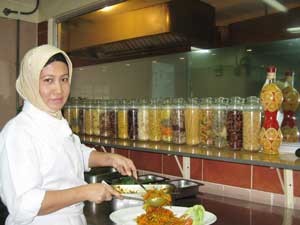 Islamic chef Sayda cooks at Café Saigon (Photo: Tuyet Anh)
Islamic chef Sayda delights gourmets with a wide selection of dishes such as Red Date (a fruit from Saudi Arabia), Kueh Dar Dar, Bubur Cha Cha, Bandung water, and Cin Chow. The price for an adult is US$8
++, and US$4 for a child. Especially, the hotel provides free-of-charge packing for take-away dinners of the Halal dishes.

The hotel holds a certificate for Halal food it supplies for the Islamic community in Ho Chi Minh City. Its Café Singapore has been selected in many years as one of the best Halal restaurants in the city.

For more information, contact Ramana at 323 Le Van Sy Street, District 3, Ho Chi Minh City, tel: (08) 843 9999.