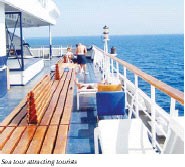 Sea tour attracting tourists.
The Tourism Authority of the Kien Giang Province will begin a fact-finding trip in early 2007 to survey a proposed sea-route for tourists who wish to travel between Viet Nam, Cambodia and Thailand.
The one week trip will bring together representatives of Kien Giang provincial authorities and 25 tour operators from the Southern provinces. They will tour the town of Rach Gia and Phu Quoc Island of Viet Nam, Shihanoukville of Cambodia as well as Chanthaburi and Trat of Thailand. Mr. Le Minh Hoang, director of the Kien Giang Tourism Department, said that the sea route
tour would offer a link between the three countries by sea.
The new proposed route would give tourists the chance to view many famous landscapes in the Gulf of Thai Lan.