Rudimentary shops selling green tea have become a part of Ha Noi and are a home away from home for northerners who are just visiting the Vietnamese capital for a spell.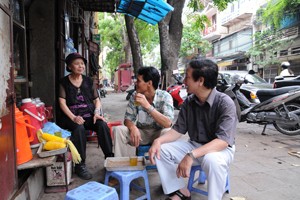 Enjoying a cup of hot tea on the pavement is a good way to discuss hot news
The renowned female poet Xuan Quynh summed it up best in her two lines about what constitutes happiness:
"The steady breath of a sleeping child
A cup of green tea in the winter"
Maybe the inhabitants of the hot south who appropriately down gallons of iced tea cannot know the pleasure of sipping a cup of hot tea on a cold winter's day. There is no winter in the south, just three seasons: hot, hotter and hottest!
A southerner visiting Ha Noi once asked me: "Why don't they (restaurants and cafes) serve green tea after a meal? We have to go next door to have tea."
The simple answer is that Hanoians think they should not compete with others' business but let everyone make ends meet. It's quibbling really as tea is more than just a way to finish off a meal and can be enjoyed at any time of the day.
A green tea shop might look spartan but patronizing one is a real pleasure and there is always a full china pot wrapped in cloth to keep the tea warm.
In the past, the tea was usually served with keo lac (peanut candy) or keo doi (intestine-shaped candy). The latter sweet has fallen out of favor but keo lac is still popular even though no-one can explain why it makes the tea taste that much better.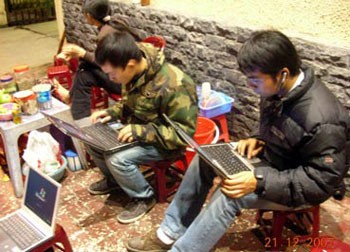 A green tea shop might look spartan but its visitors in no way lack modern gadgets
For the many Vietnamese men who smoke, every tea shop has a dieu cay (farmer's pipe) against the wall next to a healthy clump of tobacco wrapped in newspaper.
The right way to do it is to leisurely pack some of the tobacco into the pipe bowl, get a fire flake from the adjacent lamp, which for some reason is usually from the USA, then leisurely ignite the tobacco while commenting on the state of the world and the ways of men.
Light the bowl slowly and with only light puffs rather than trying to do it in one shot. When the pipe is burning nicely, breathe the smoke in deeply and follow it up with a gulp of burning tea, which tastes a little bitter at first but gets sweeter as it reaches the throat.
Most of the tea shop owners are getting on in years, which only adds to the atmosphere and makes the shops more homely and a stark contrast to the bustling city outside.
Ha Noi is changing day by day, but the tea shops are still there and a cup of green tea still costs VND500, as it has for yonks.
And you can always take the cup outside and watch the world go by. After all, what could be more pleasant than sipping hot tea while leaning against an old sau tree at twilight on a cold winter's day?