Tourism companies in Ho Chi Minh City are offering discounts for both inbound and outbound tours.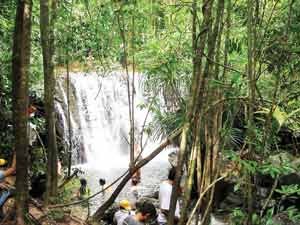 Tranh Stream in Phu Quoc Island
Vietravel and Fiditour are offering promotions for tours to Phu Quoc Island. Vietravel (tel: 08-8228898) charges promotional prices from May 30 to June 8, discounting VND200,000-VND400,000 for each tourist taking its three-day tours, departing on Wednesdays, Thursdays and Sundays.
Fiditour (tel: 08-9141516) offers a longer promotion period. Between now and October 31, the discount for its three-day tours is 30%, so the price is VND2,230,000 per visitor. Tourists will stay at the four-star Saigon Phu Quoc Resort. Among the stops are the Ham Ninh fishing village, Tranh Stream, Sao Beach, and a dog farm.
A big cultural event during the summer in Viet Nam is the Hue Festival, staged from June 3 to 11 in the ancient capital of Hue. Fiditour has five-day tours for Hue – Phong Nha Cave – Mount Ba Na – Da Nang – Hoi An, departing on June 3, 5, 8, and 10. The price is VND3,390,000, and a 10% discount will be given to booking before May 25.
SPSC Tour (tel: 08-8235412) is collaborating with carrier Lion Air in promoting tours to Malaysia and Singapore. A four-day tour in Singapore with SPSC costs US$319, and the price for a seven-day trip to the two countries is US$399 – the discount here is up to $80.
SPSC Tour also has discounts for its Hong Kong tours, with stops including the Disneyland and Ocean Park. For example, US$635 is the price for a five-day trip designed for families and teenagers, departing on June 1. Good junior students enjoy an additional discount of US$30 each.