Ho Chi Minh City-based Transviet Group, a provider of travel-related services, has launched a training program on selling, promoting and managing tours in the wake of the country's shortage of properly-skilled personnel for the hospitality industry.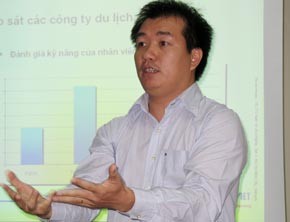 Mai Trung Thanh gestures during a press briefing August 15 (Photo: Tuong Thuy)
The first training course will start on September 15 and last 3.5 months, Transviet training director Mai Trung Thanh told media on August 15. "We just focus on what people need to do this very job efficiently. We don't teach what they don't need to use. Therefore, the course takes just more than three months and they can start working right away," he said.
"For example, we don't teach tourism administration, or hotel management, or restaurant management as some universities do for their tourism faculties," he added.
Mr. Thanh said Transviet has made R&D for this training idea since mid-2007. The syllabus is based on all what a staff has to do in selling, promoting and managing both inbound and outbound tours. He added the first fruits of a training program on selling air tickets Transviet launched in 2007 have encouraged the group to work on the latest training program.
Mr. Thanh also quoted Deputy Prime Minister cum Education Minister Nguyen Thien Nhan as saying at a national seminar on tourism personnel training held in March that the quality of personnel is was urgent matter for the sector, which employs about one million workers but only 20 percent of them have undergone training.