It is surprising that anything so thoroughly and globally "old hat" as Chinese fried rice enjoys such robust popularity in rice-rife Saigon, but there you go: as testament to the dish's widespread charm, it can be found on menus across the city, as popular here as hamburgers and fries in the United States.
Com chien duong chau (Chinese fried rice) contains that most endearing quality of a decent meal, an interesting interplay of savory flavors that shifts subtly with each spoonful. Rightly so, as each bite might contain a different mix of the typical ingredients, including shrimp, chicken, cubed pork, egg, mixed vegetables, and of course, rice. Neither meant to be savored too long nor gobbled too quickly, com chien duong chau is solid standard fare, perfect for a cup of tra da (iced tea) and conversation with friends.
Fine iterations of this reliable dish can be found across the city, but arguably the best is served in local eateries, often for under VND 15,000. Travelers seeking an authentic Vietnamese dining experience sans the risk of ordering something unknown and potentially unpalatable will be delighted to know that a safe helping of com chien duong chau is close at hand.
On the corner of Nguyen Dinh Chieu and Nguyen Thien Thuat lies Nam Son Restaurant, a simple, two-storey diner run by an eclectic crew of Cantonese-Vietnamese. It is an excellent location at which to rub elbows with locals over a plate of their authentic fried rice. Nuoc Tuong (soy sauce), tuong ot (chili sauce), and chili slices stand at the ready to add some pep to the meal, while it may be a good idea to rub down one's chopsticks and spoon with the provided lemons (a semi-effective antiseptic).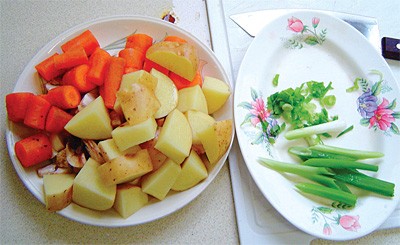 Materials for cooking fried rice
As for the curious stares from the restaurant's regular patrons, a smile may be one's best defense.
Com chien duong chau is not a particularly difficult dish to make, and leaves plenty of room to be cooked to taste. First, wash and cook the rice, setting it aside to cool completely. Blanch the diced carrots in boiling water for two minutes, draining well. Blanch the shrimp in boiling water, draining well, peeling and dicing.
Recipe

300g Rice
40g Diced carrots
200g De-veined shrimp
2tbs Cooking oil
2 Eggs, lightly beaten
2 Garlic cloves, finely chopped
2 Shallots, finely chopped
100g Chinese sausages, diced
1/4tsp Salt
1/2tsp Sugar
1tsp Chicken seasoning powder
1/3tsp Ground white pepper
1 Spring onion, thinly sliced
1 Coriander sprig
1tbs Fish sauce
1 Red chili
Next, heat a half-tablespoon of cooking oil in a wok or frying pan over medium heat. Add the eggs, stirring quickly until cooked, then set aside.
Reheat the wok and add the remaining oil. Sauté the garlic and shallots until fragrant and slightly brown. Add in the shrimp, sausages and carrots. Stir-fry for five minutes, and then add the rice, mixing well. Season with salt, sugar, chicken seasoning powder and pepper. Mix in the eggs and continue to fry for another five minutes or until the rice is dry.
Mix well for another few minutes until the ingredients are well combined. Sprinkle in the spring onions, garnish with coriander and serve with fish sauce and sliced chili.