Despite being exposed to Chinese culture for centuries, Viet Nam's pottery and ceramics have managed to detach themselves from neighboring clay-firing and glazing techniques and have developed distinctive features.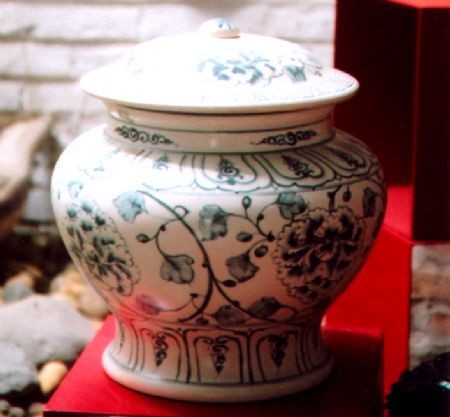 Bat Trang ceramics are famous throughout the country
Ever since King Ly Thai To moved the capital of the country to Thang Long in 1010 – now Ha Noi – pottery guilds and villages quickly developed to perfect their crafts to quintessence and sophistication, all the while maintaining delicacy and elegance.
Pottery and ceramics during the Ly Dynasty took on beautiful shapes, elaborately decorated and revealing a variety of colors. Their fame has reached far and wide, treasured by foreign travelers who more often than not buy some as keepsakes.
Though modern pottery may be more glamorous, it does not retain the distinct Vietnamese culture and handmade feel as that from the Ly Dynasty (also known as Giao Chi pottery).
Apart from normal objects featuring fruits including cups in the form of pomegranates, melon-shaped jars and lotus-shaped bowls, there are kettles that look like chicken heads, long vases similar in scale to an elephant trunk, plates modeled after conical hats, among many others.
Since time immemorial, this pottery has reserved a respectful place for folklore, with clay statues of dragon and lion heads or simply glazed tiles featuring leaves, silhouetted trees and flowers – all indispensable adornments for royal castles and pagodas. The pottery has found its way into magnificent buildings from Thien An, Nghenh Xuan, Chuong Duong and Truong Xuan palaces in Thang Long to myriad other holy and secular structures.
Earthy Art
Glazed pottery often takes on earth tones to reflect rural Viet Nam, with the yellow of unhusked paddies, the brown of the soil and blue of leaves, all the while ingeniously embellished with reliefs, underglaze and top-glaze decorations.
Under a translucent, colorful finish, birds, butterflies, stylized animals, shrimp and fish loom up against tranquil skies dotted here and there with clouds. Far away, waves repeatedly washed ashore by winds and other images shrouded in Buddhist and Taoist philosophies engage the viewer's attention.
The most famous and possibly most valuable potteries are "celadons" – pottery covered in a jade-green glaze and brown, hexagonal teapots. What's special about the former is that its glaze assumes the color of green beans while at the same time managing to attain a natural shine like precious jade.
The hexagonal teapots have mouths, bottoms and heights of roughly equal sizes. Usually decorated with patterns of flower buds and lotus petals, they are not only invaluable items but testify to Vietnamese tea culture as it has been refined through the ages. Lavishly decorated pottery tiles also feature rich flora and fauna that rival any of the West's acclaimed tapestries.
Invoking the Divine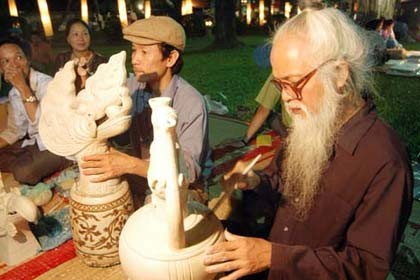 Artisans molding clay into attractive pots at Bat Trang village

An aerial view of the royal roofs at dawn would produce images of mythical beasts such as dragons and phoenixes as the tiles are layered on each other to form interesting shapes and semblances, especially as they gleam in the sun's early rays.
Pottery products on columns feature human faces and birds, nubile girls with swaying hips and dragons belching fire, bringing out the majestic qualities of the buildings and enhancing the general grandeur of the architecture many times over.
The "golden dragon," the hallmark of the throne and the symbol of Thang Long (which literally translates as "ascending dragon"), also features dominantly in pottery wares with soaring curves, a curled, slender body twisted in daunting, delicate shapes, both flexible, sturdy, and thoroughly Vietnamese.