Just stepping into the beautiful house of Artist Do Duy Ngoc, visitors will be dazzled by some 700 clocks of all kinds displayed on his shelves, his tables, sitting in showcases and hung all over his walls.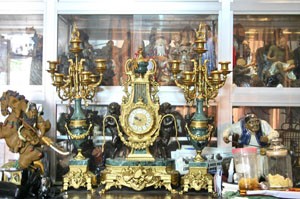 A cascade of clocks displayed inside Mr. Ngoc's house
At the age of 17, Ngoc, now 58 years old, left his family to go to Sai Gon for further education after studying painting at the Hue Art School in Hue, the former imperial capital of Viet Nam. To earn money for his schooling, Ngoc had to do various jobs including cleaning up in a printing workshop, selling newspapers and proofreading.
Despite the challenges and hardships, Ngoc achieved great success in his studies and finally graduated with bachelor degrees in Oriental philosophies, Vietnamese-Sino Chinese, and in newspapers and magazines.
Heart of a Collector
Ngoc began his collection hobby in the early 1970s. At the outset, he collected porcelains, gems and articles made of elephant tusks. Shortly afterwards, he shifted his interest to collecting clocks.
Ngoc explains that he loved to listen to the tick-tock sound of a clock ever since he was a small child. When walking past a clock store, Ngoc always stopped in front for awhile to contemplate the aestheticism of the clocks, their different designs and shapes, as they hung from the walls.
Ngoc says, "I'm interested in watching the swing of the clock pendulum. In many ways, the working of the clock is just as delicate and sensitive as that of the human body – a slight jolt can disrupt the swing of the pendulum and stop the clock, just as a poor heart can suddenly give up and extinguish life. The vicissitudes of both mechanisms are so much alike. This is why I feel the heartbeat and life itself in the working of the clock, and learn to appreciate every precious moment of time passing by with its constant tick-tocks."
Another reason, says Ngoc, was that many people have collected porcelain, gems and stamps but nobody collected clocks. According to the first clock collector in Viet Nam, the art of collecting antiques lies not only in the search for the rare and precious but also in the rejection of the mundane and trivial. This is also the art of living.
At his home, there are currently some 700 wind-up clocks manufactured in many different countries around the world. The oldest was made in the 17th century and the latest around 100 years ago and the most expensive is probably a French clock worth some US$20,000. There are also atmospheric clocks and "rolling ball" clocks. Most were brought during Ngoc's trips to the United States and Europe.
Ngoc said, "Collecting clocks is the karma of my life. I keep on seeking and hoarding as many ancient clocks as possible. I often feel a great anguish when a beautiful clock can't be acquired because it is not for sale or there are not sufficient funds available for its purchase. With time, I have come to realize that greed is the root of misery, and only after one has overcome their desire for ownership can one truly appreciate a clock for its beauty – be it his or others'."
Passion's Price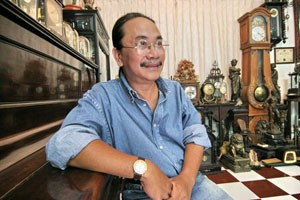 Ngoc was granted a certificate for being the person with the most wind-up clocks in Viet Nam four years ago
Ancient clocks, of course, cost a lot of money. Sometimes, Ngoc had to spend thousands of dollars on a desired clock. He confesses that there have been times he did think about selling all of his clocks.
"I now and then feel that it's rather heartless for me to spend thousands of dollars on a clock just for fun while many poor people are striving for only a few thousand dong a day to survive."
So far, however, Ngoc has not sold his collection, prevented by the realization that no matter what he does and how he tries, he can't exchange his simple hobby for absolute equality between people in society.
To earn more money for his luxury hobby, Ngoc has to work as a book cover designer and a painter. He has become one of the top book cover artists in the city and gained a lot of money from this creative job. He also earns money from his paintings, which are mostly sold in the United States and Europe.
Four years ago, VietBooks, a Vietnamese Guinness records organization, granted Ngoc and his long-running passion a certificate for being the person with the most wind-up clocks in Viet Nam.